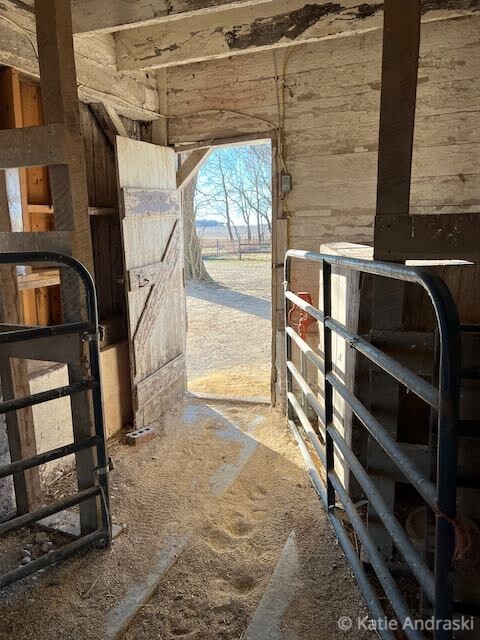 I woke up on New Year's Eve filled with dread. It seems almost useless to force hope onto a change of calendar, though I understand when a year has swollen with loss, hanging a new calendar seems to promise better times. Often it does. (Ours portrays mules and faces our toilet.)
Though grief endures, whether we want it to or not though in a hollowed out, painful way, it connects us with the people who aren't here. As Dietrich Bonhoeffer says, "Nothing can fill the gap when we are away from those we love…It is nonsense to say that God fills the gap; he does not fill it, but keeps it empty so that our communion with another may be kept alive, even at the cost of pain."
But I didn't want to post my dread in the obligatory Facebook New Year greeting, so I said,
"Who knows what doors will open or where they'll lead or who will be waiting at the threshold?"
I think how doors opening to our homes with lamps fired up against the darkness, can be full of promise even as grief walks beside us, that promise as ordinary as a blanket and a good book, and as spectacular as wind clapping our backs as the sun throws pinks and oranges against clouds sitting along the horizon, that promise as kind as doors opening to a neighbor holding a casserole or offering to help put up hay.
I'm Katie Andraski and that's my perspective.
If you'd like to hear me read this click here.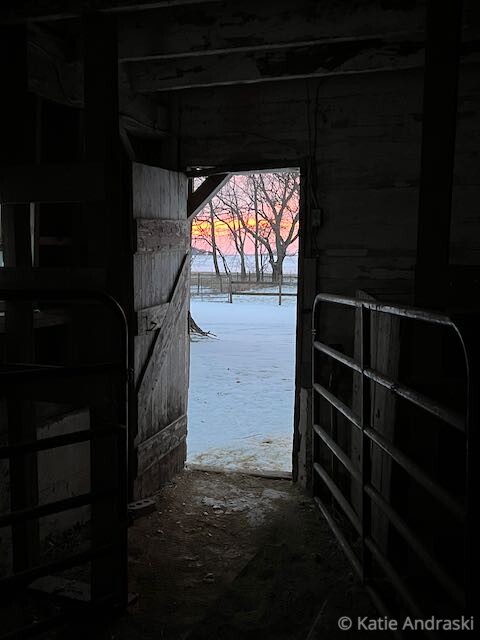 The weather has turned so cold that my fingers and toes and bottom ache for a good hour once I've come in the house. It's a sterilizing cold. A kind of weather to push against, to make me feel that I am pushing past my comfort zone. But I come inside and want to go to sleep, a heavy leaden sleep. Christmas is past, the cats knocked over the Christmas tree, breaking a few Breyer ornaments, that have little sentimental value, except that I like looking at them during the Christmas season. The fake trees are put back in the shed, and our decorations stowed under the stairs. Towns and homes will be taking down lights that brightened those long nights.
The month we spent treating our neighbors' horse's eye twice a day has come to an end. There was something in Mr. P's ringing thank you as we were leaving that sang of true gratitude. I come away thinking that's probably the best thing I've done all year. We have to draw water from the side of the house when the sun hits the spigot and thaws it. I stock pile water buckets in the guest bath, along with hay bags when they freeze. The hay bags smell like damp, fermented hay. My saddle, bridles and harness are in the pocket door room. In the winter the barn comes inside the house, including shavings and hay.
Morgen has stood at the gate missing our company, but with it this bitter I throw hay to keep her warm and get back in the house. She has stood at the gate moving her lips like she is hoping we'll bring out the harness and drive her. When I do midday water chores she comes into the barn with a soft look in her eye. I do some carrot stretches but it's too icy for me to try lunging her or in hand work. But when I leave she walks into the paddock, rolls, jumps up bucking and cantering to the backside of the barn. Looks like protest to me.
Even though the sun is barely pushing against the night, and Morgen has begun to shed with the promise of spring, it's a long run to Easter, with the fasting of Lent, and the tracking mud before we get there.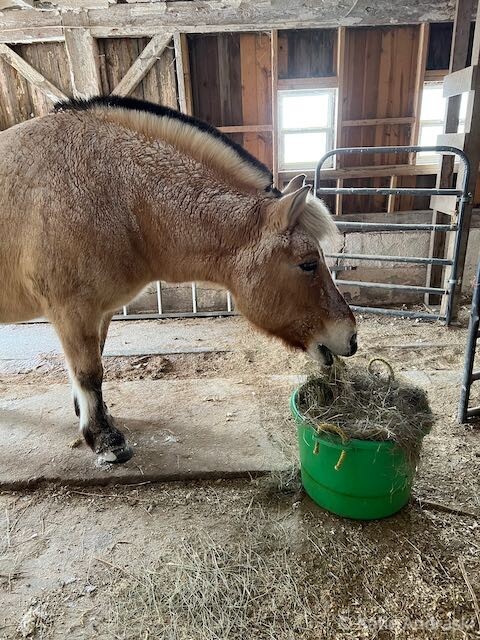 Doors, doors, doors sliding open to the morning sun. When I was young and ambitious I thought of doors opening like they a grand opportunity to publish my book or take a new job that would fill my need for significance. I thought of them in terms of moving to a new place, with all the excitement of new people, and new places. (But my enthusiasm for any of those has been dampened by the reality. People who are published by traditional publishers have said how grinding hard it is, how there is not much respect. The joy of a new job lasts for a few weeks until the reality of learning new systems sets in. There are always politics between people getting along. And moving to a new region can be disorienting and lonely. Everything needs to be set up from bank accounts to doctors to finding community.
I love the doors on the farm, the doors looking out to the horizon, wood framing the sunset or the tree, or the moonrise. In To Bless the Space Between Us John O' Donohue writes that thresholds can mark the line between before and after. As far as grief goes, he says, "It takes only a couple of seconds for a life to change irreversibly. Suddenly you stand on completely strange ground and a new course of life has to be embraced…You look back at the life you have lived up to a few hours before, and it suddenly seems so far away" (49). It was that way when my mother died, and later my father and later still my brother. There was a before, when I was a daughter and a sister, their voices only a phone call away. And an after when no phone call could reach them. Years later a pastor preached at a funeral service, "If you are in Christ and they are in Christ, you are not far from each other"and so I find comfort. Even now my life steps out from that dreadful half decade when my family died.
The early Christians believed that death was a door that brought us into our full humanity. That we become the full human God had in mind when He made us. All that is "not of love's kind," all that is not worthy of God's idea, is burned away, leaving the burnished bronze, clothed in white linen, shining like the sun glory.
Let me leave you with the celebration of doors in Psalm 24:
Lift up your heads, you gates;
be lifted up, you ancient doors,
that the King of glory may come in.
8 Who is this King of glory?
The Lord strong and mighty,
the Lord mighty in battle.
9 Lift up your heads, you gates;
lift them up, you ancient doors,
that the King of glory may come in.
10 Who is he, this King of glory?
The Lord Almighty—
he is the King of glory.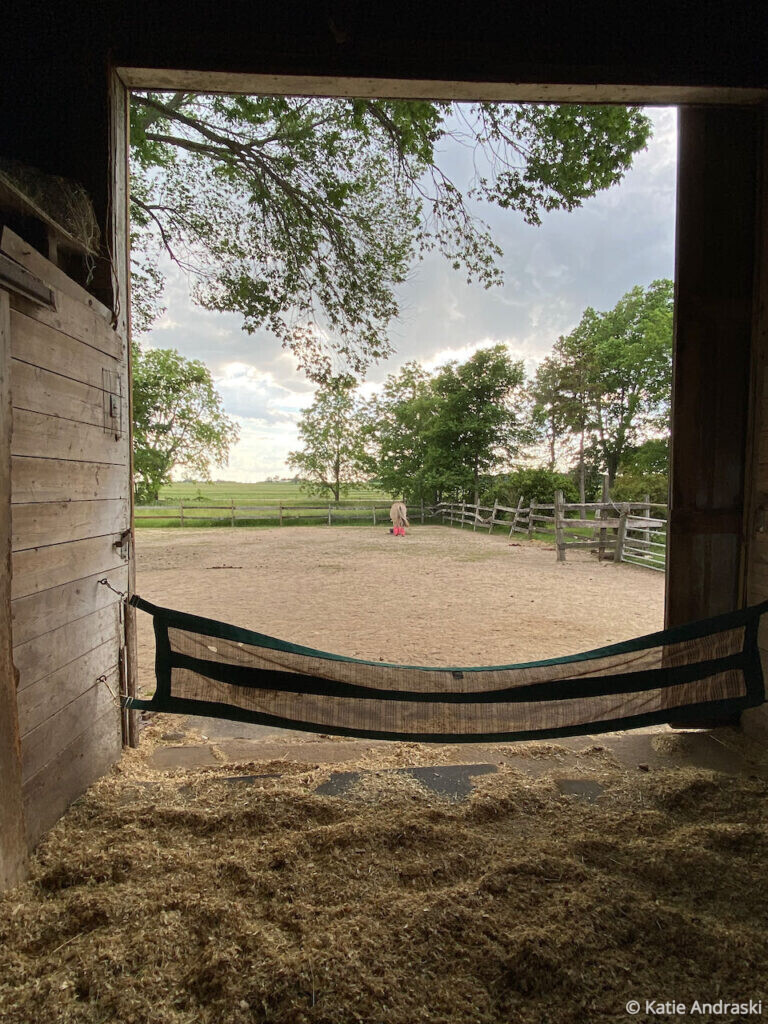 I'm curious, what do doors mean to you?
And that's all I know. If you'd like to be on my regular mailing list click here: