Advent
Be broken, O peoples, and be shattered;
And give ear, all remote places of the earth.
Gird yourselves, yet be shattered;
Gird yourselves, yet be shattered
Devise a plan but it will be thwarted;
State a proposal, but it will not stand,
For God is with us."
"Immanuel. Oh come oh come Immanuel…" We beg Him to come to ransom us.
"Gird yourself, yet be shattered. Gird yourself yet be shattered" runs through my mind this Christmas Eve day. I wanted this Christmas to be happy. I was looking forward to eating a quiet meal, opening the surprise presents people sent. And reading, just that, reading.
We had a lovely Advent, more a part of community than we've ever been. It's amazing how joining a group can bring friendships and community. Most Advents we have no parties to go to, but this year we were invited to two parties through the Concerned Citizens group and one through our church. I told Bruce that I'd never been in a church where I felt this loved. Then our neighbor invited us to her Christmas dinner on Sunday.
It's been a season of Bruce and I sitting together, reading the Morning Office from Phylis Tickle's Divine Hours and hearing the daily office on our Book of Common Prayer (BCP) app. After spending nearly a year praying with Morgan Guyton, we have learned to pray aloud for people in our lives. (I think Bruce's simply naming people is more powerful than my narratives, though maybe it's because there are two of us, Jesus comes and sits in the middle. Maybe because there are two of us, those prayers get heard. Advent being a season of waiting, thinking about Jesus' coming and second coming, and Christmas being twelve days long, and the focus on spiritual time, rather than ordinary time, blunted how dreadful Christmas Eve and Christmas became.

Christmas Eve
I'm sitting here at the emergency vet, waiting to visit with Night, who had to be hospitalized because he didn't stop vomiting two days ago. At first the vet didn't see or feel anything. I suspected chicken bones or something he ate along the road. She gave us something to stop his vomiting. By evening he was crashing. I waited overnight and took him back to the clinic, where they admitted him, saying they'd be there till Wednesday.
That night I dreamed of a huge jetliner crashing into my home town, bellies of flames billowing up, the terrorists objecting to the Army tank in the town square. I rolled over to Bruce, but he didn't turn back to me. My feet felt like they'd been stuck by a cattle prod.
Now Night won't eat. He's gone dull. We've marched through the tests: blood work, x ray, ultrasound, barium study. The next step would be surgery to see what is going on because his bowels stopped moving.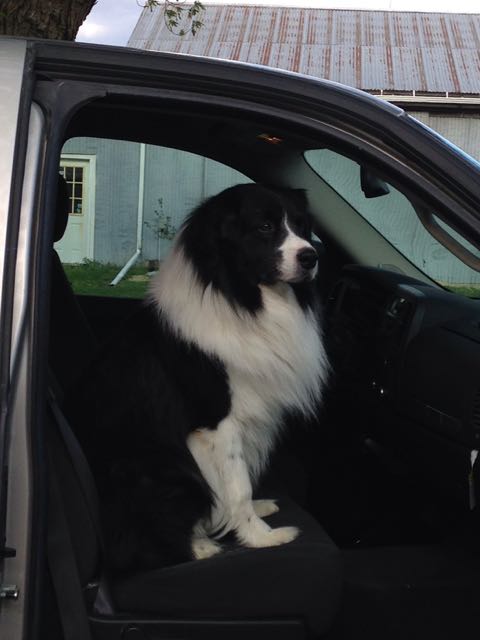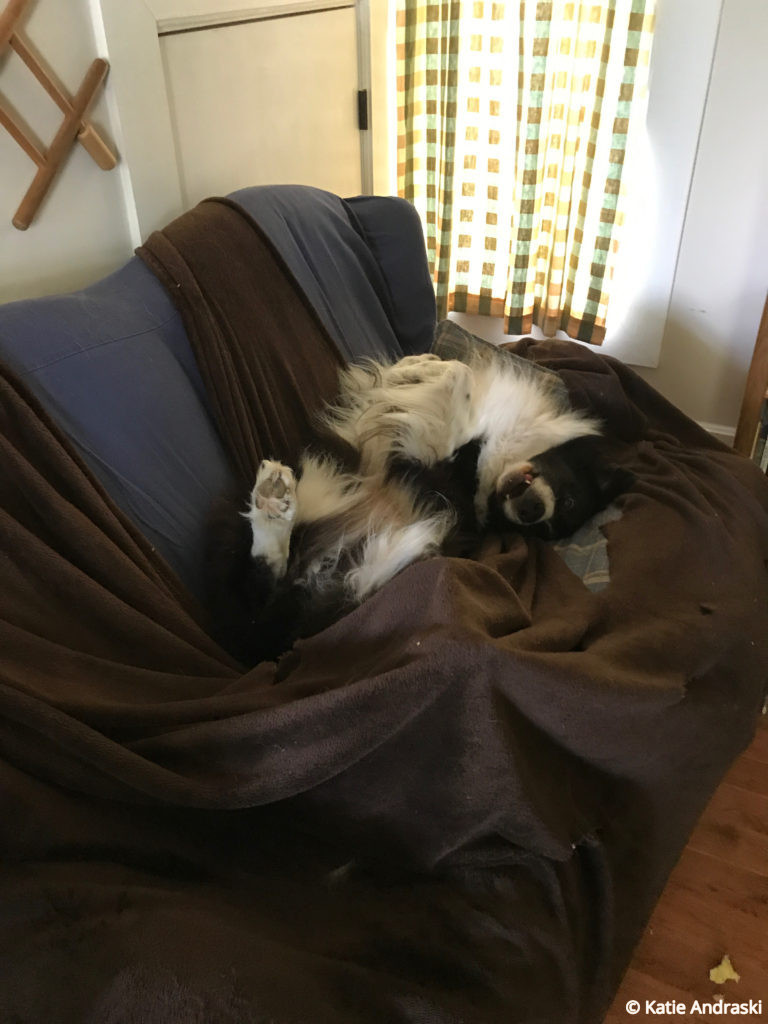 How Night Came to Us
When they brought him into the room, he leaned against me and hopped into my lap when I called him Gallant Galut, a name he seemed to know from some other time, a name that would rile him up at home. He came to us after a horrible semester teaching, where the politics had tightened terrible screws, and my crying wouldn't stop. I'd asked Nate and Booker's breeder about a pup when we first moved to our farm but since I got horses, I was too busy to tend to a pup. But he was still there when I asked again, so maybe Night was meant to come to us. His breeders Brenda Griffen and Leida Jones met us in St. Louis on their way to the Australian Shepherd National Specialty at Purina Farms. He was closely related to Nate and Booker.
Our pastor and my friend both say names are important. Night's is Penn Y Caerau Night Bird. Penn Y Caerau means fortress in Welsh. I take Night Bird to mean owl, a mysterious creature we have seen sitting on our shed and heard outside our bedroom window. We call him Night sometimes, and Birdie others.
Our other dog, Booker had almost died but the vets at Madison saved him. "Gird yourself, yet be shattered." I'd been so shattered I got pneumonia, but the shattering was shattered because Booker was healed and came back to us for several more years, living into his old age.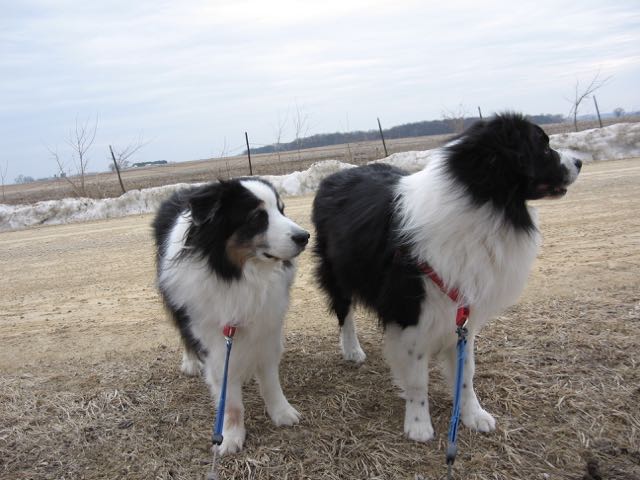 Back to Christmas Eve
The Emergency Vet clinic was packed with emergencies so we sat for five hours waiting to visit Night, and waiting to find out what the barium study said. The receptionist told us they were busy but we were in town after Christmas Eve service. It was like waiting at the airport. Only with people bursting into tears. I braced myself against the sorrow, my heart thumping.
We were there long enough for a shift change. Both vets said they didn't know what they would find when they did surgery. It could be something ugly or something that could be fixed. How old is he? Ten. We were fifty/ fifty between euthanizing him right then or trying the surgery. She showed us how much we owed if we did surgery. We sat blinking with weariness and grief. Bruce had been weeping for two days and I had been holding hard my tears.
We saw how his intestine was plugged and blown up like a balloon a clown squeezes and twists into shapes for children. Nothing was moving. It could be cancer. He's an old dog, they said. The intestine is thickened. These things can appear quickly–the dog healthy one day and very sick the next. We don't know until we get in there.
But when we walked him, he trotted out, brighter than he'd been in the morning. He rested his head on my knee. This is a dog who is about empathy. I can sigh deeply and he'll be by my side. He wants to comfort our sorrows. And celebrate our joys. Nothing more beautiful than Night's running full tilt back from the field.
Everyone at the vet clinic loved him. They said he was easy to work with and drew the vets and technicians to him. One woman said she was pretty depressed when she went home that night, thinking about Night and others. The saying, "What's bred in the bone will out in the flesh" holds true of Night.
What would you do? we asked Marg, who would do the surgery. (She's tended my dogs for years.) But that's not a fair question. She emphasized he is ten. But he has a lot of life in him. Bruce said to me, It's up to you. I closed my eyes, waited. Prayed. It's a lot of money. And we might not have a dog at the end. But it's only money. I can let an animal go.
I felt hard, tearless, reading my phone like book. Asking for a few prayers, but I couldn't stand to go out on my whole Facebook feed. Why ask people who hardly know me for prayer? Their decent I'm sorry, a true sentiment, can scrape against the pain. I wonder about joy, about the title of a book I want to read Defiant Joy. I wonder where joy fits in when grief is welling. But, but he's not dead yet. He is full of life.
We told Marg to let him go if what she found was too ugly. But let's give him a chance. He's got too much life left in him. He trotted out stronger, scraped the ground with his feet, when he was done peeing, marking his ground.. We told Night what a good dog he was.
On the way home, the social-justice-warrior-accusing-voice whispered, think how many poor people you could help. He's only a dog. Not God's beloved poor. Think of the well done you'll hear when Jesus separates the sheep and the goats, the points you'll earn with God. Think of the lamb, families tended, befriended, loved, then slaughtered before Passover.
But God so loved the world. The world. But creation groans. But it will be set free from its bondage to decay and death. God so loved the world–even empathetic dogs who stopped tears. And heartbroken husbands. It's only money. We needed to give him a chance.
"Gird yourself, yet be shattered. Gird yourself." We went to bed wondering when our vet would call, either with news Night was waking up from surgery or she did not wake him up. We prayed God would heal him, would bring him back to us. Bruce woke up at 3 while I slept.
Christmas Morning
When we woke up, we did not know if Night would be alive or dead. I waited until it was nearly time to leave for church. I called. The first thing Marg said was he was just waking up from surgery. I sat down on our steps, relieved, and listened to what she found. Six inches of very enflamed, thickened intestine. She did not know if it was cancerous or something that got in there and irritated it. (My vote is for something irritating it. Night got in garbage the other night. And ate coyote scat off the road.) I don't know if it's the right decision, but I wanted to give him a chance, she said. His abdomen and lymph nodes looked good. If it's cancer it might be slow growing or we got it and you might have several years left with him. Don't come after church. He's just waking up. Come this evening. Call first.
Now the next days got blurry. Night trotted out for us when we walked him outside. He sniffed. He scraped the grass. But he wouldn't eat. He took a piece of hamburger and rice and spit it out. He turned his head away. Dr. Thrall showed me the biopsy. Night's intestine looked gray and much thicker than it was supposed to be. The pathology report would be back in ten days. Doc said quietly, Next thing, he needs to eat. Dr. Guedet at Perryville put him on an appetite stimulant. That night, at the Emergency Vet, Dr. Thrall, said he'd try a probiotic and syringe food into him to fix his sour stomach. I wondered if Night would be better off home. He's a sensitive dog. He jumps in my lap when I cry. All the grief whirling at the clinic had to wear on him.
Like at an airport we chatted with other people who'd brought their dogs in. One couple was new to the area. Another sobbed at letting her dog go. I asked the vet if we could take Night home. But he wanted us to wait because he'd come so far. Night was keeping the pureed food down.
Once Christmas was over, we woke at 5:30 to transport him to Perryville Pet, and then bring him back to the emergency clinic when they closed. We put in some early mornings, the Christmas lights in town, draped across the road, always cheerful, festive, small town.
The second day, Night was at Perryville, Dr. Verace said we could take him home that evening. He's had enough. We could give him food by syringe. That evening, she said he'd started eating on his own.
Gird yourself yet be shattered. Gird yourself yet be shattered for God is with us. He is not a tame lion, as CS Lewis wrote in the Chronicles of Narnia. Life itself can break you, but then it can swing around to joy just as easily as it can swing to grief. Jesus, the one acquainted with grief, was also anointed with joy above his fellows, and for the joy set before him, endured the shame of a terrible, naked torture, and death. Somehow his death defeated death, shook our grief into a comforted sorrow. Our pastor used to preach at funerals, If your loved one is in Christ, and we are in Christ, we are not far from each other.
Night came back to us. When we arrived home his eyes widened like he couldn't believe he was home. I thought of Psalm 126, a song of ascents:
When the LORD restored the fortunes of Zion,
we were like those who dream.
2Then our mouth was filled with laughter,
and our tongue with shouts of joy;
then they said among the nations,
"The LORD has done great things for them."
3The LORD has done great things for us;
we are glad. (Ps 126: 1 – 3, ESV)
If you'd like to keep hearing from me, every two weeks or so click here. Or sign up below. Keep scrolling if you'd like to comment.