The cat came back the very next day. I thought he was a goner but the cat came back. He couldn't stay away!
When Onyx died, Darlene said that he might just find his way back to me. On that devastating day after he died, I was hopeful because I missed him, and I felt guilty for not laying my hands on him and calling him back from the brink. My hands itched as I stroked him and wept. The vet said he wasn't coming back, and that if he did, we'd go through this again. (The shots and oxygen that had worked before weren't working.) He could barely breathe, but still I felt guilty for not calling him back with my hands, for not trying to heal him. That night I saw him walking across a field, big as a panther. And dreamed of the mountains south of Ohio, jagged, not from here, and a god/man wrapped me in his arms and loved me.
I've seen this before. Our Bernese Mountain Dog, Laager, seemed to come back as Australian Shepherd Booker. We saw Booker take on gestures we saw in Laager like crossing his front paws, and pushing his hind legs out behind him. They had similar, eager personalities that needed tactful training. Both knew how to lift their upper lip and "smile". We were given fourteen more years with this bright, happy personality, minus the awful training mistakes I'd made. I was hopeful that maybe Darlene was right, that Onyx would return.
When Chris, one of my pony cronies riding, said her best friend had given her a black cat I ached with hope, that this might be Onyx come back. He'd been thrown in a ditch, was cold and wet. His eyes were mattery, he had worms, and a cough. One shoulder was higher than the other one, probably dislocated but it doesn't bother him. In his Facebook pictures I saw he was black with beautiful green eyes. "Oh Chris," I thought to myself, "send him here. I miss Onyx so."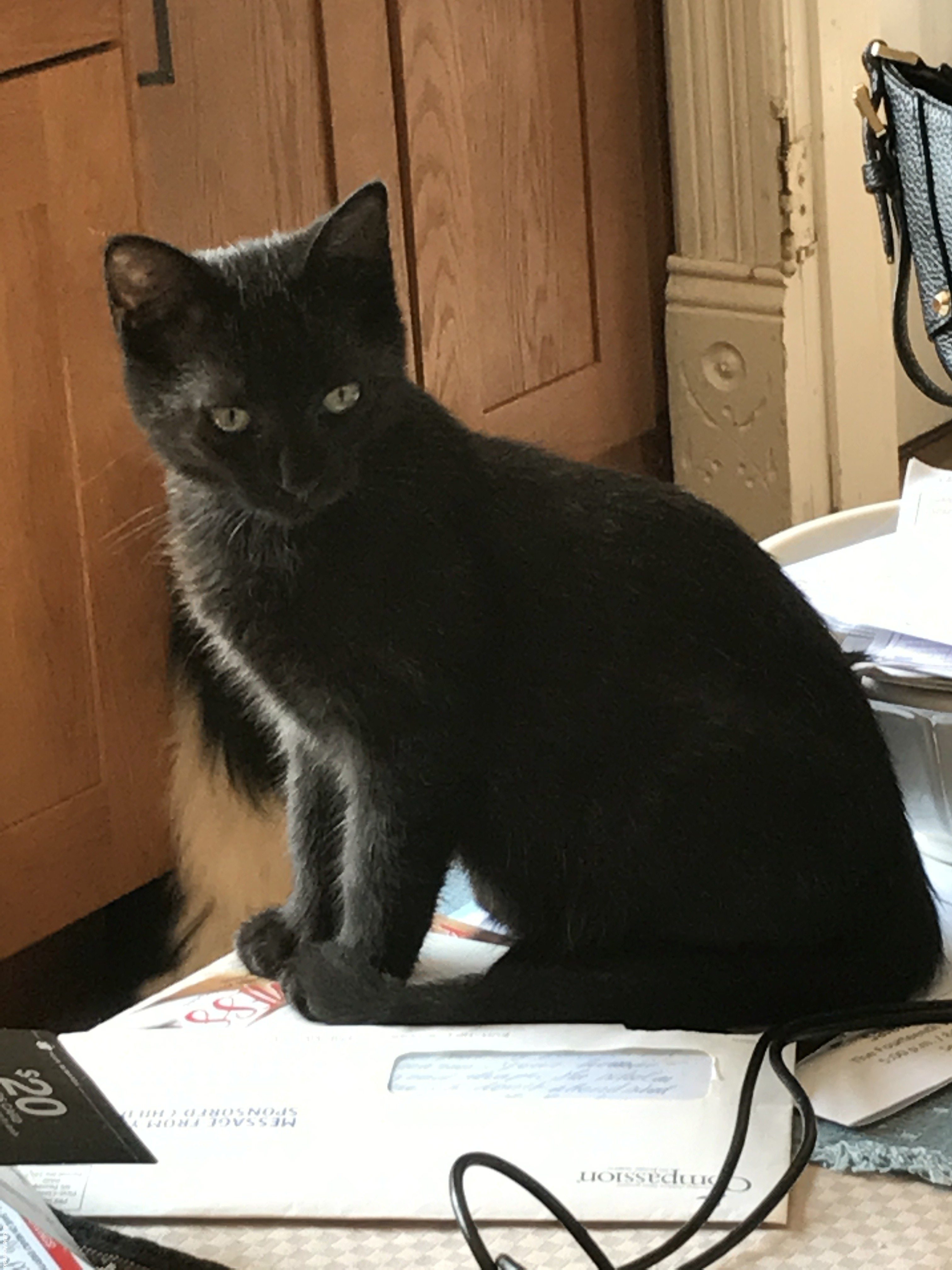 Then she posted that "Smokey" was too friendly to leave in the barn. He would climb on the hot tub and meow at the window whenever someone walked by. He stayed there all night. But Chris and her husband Russ did not want a house cat. They'd tried it in the past and it just didn't work. She posted that her daughter was considering him. "If she can't take him because of her cat, we'll take him," I commented hopefully. Sure enough Chris's daughter didn't feel she could impose a kitten on her fifteen-year-old cat and the little black cat could come here.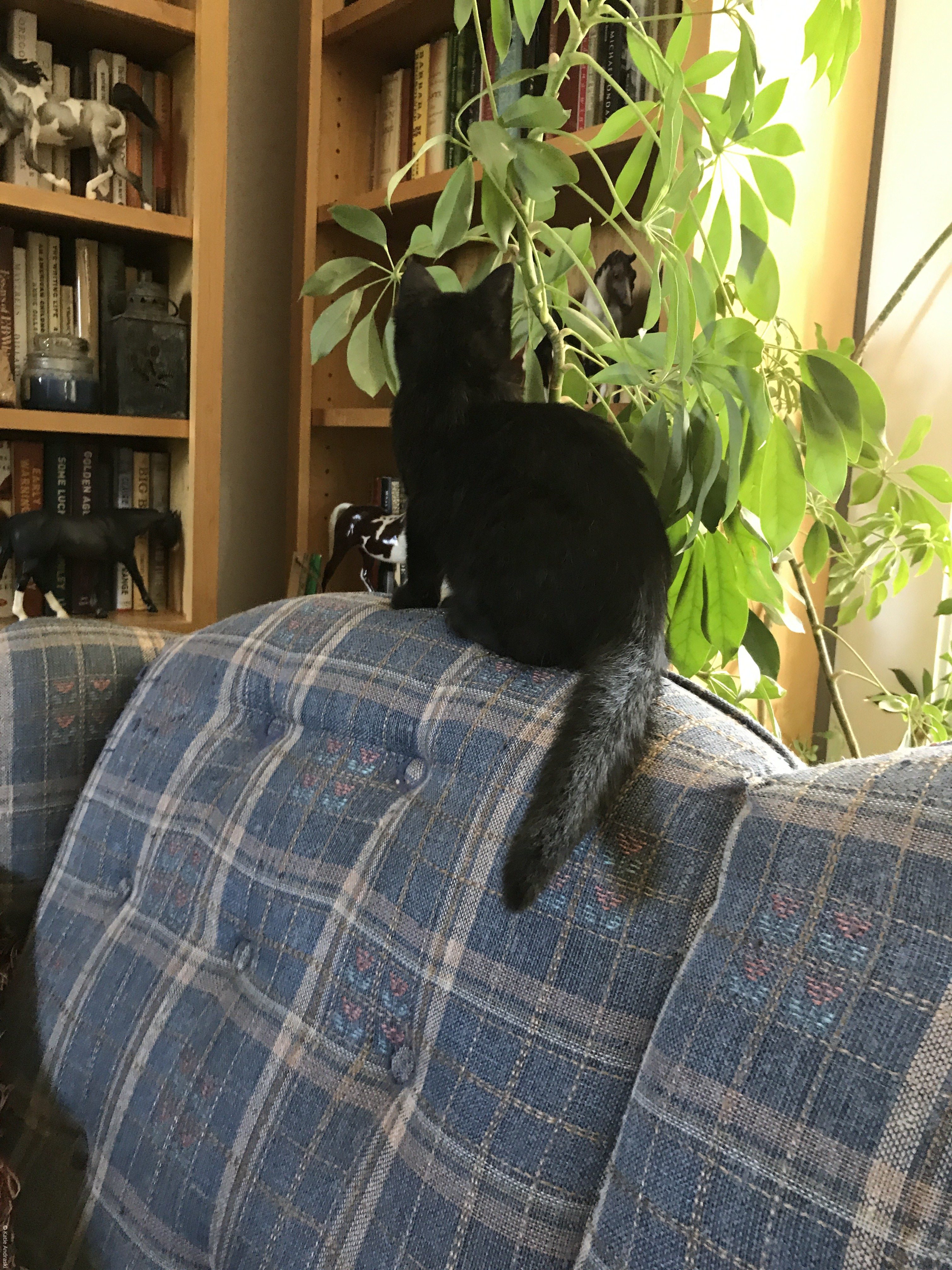 He brought joy when Chris brought him over, that lively energy that a young animal brings. She said this was a fairy tale ending for this little cat, thrown in a ditch. It's been sixteen years since we've had a young animal in the house, felt that wild energy galloping behind couches and chairs. He is black with white hairs scattered throughout his coat as though he'd been through fire or was going prematurely grey. He has a white spot on his chest and between his hindlegs with tiny hairs pointing off his ears.
"He's not Onyx," I thought when I first held him in my arms. How could he be the same cat that I tamed by petting the side of his face? That meowed and hissed at the same time, and came into the house after he was injured. But now I'm not so sure. He's already climbed in Little Dog's crate like it's his, though unlike Onyx he's started eating her food. He likes to be around people. He will dip and nod his head in the same way Onyx did and come to my wiggling fingers. He sat in my lap looking at my mouth while my phone played a song, as if he wondered where the sound was coming from.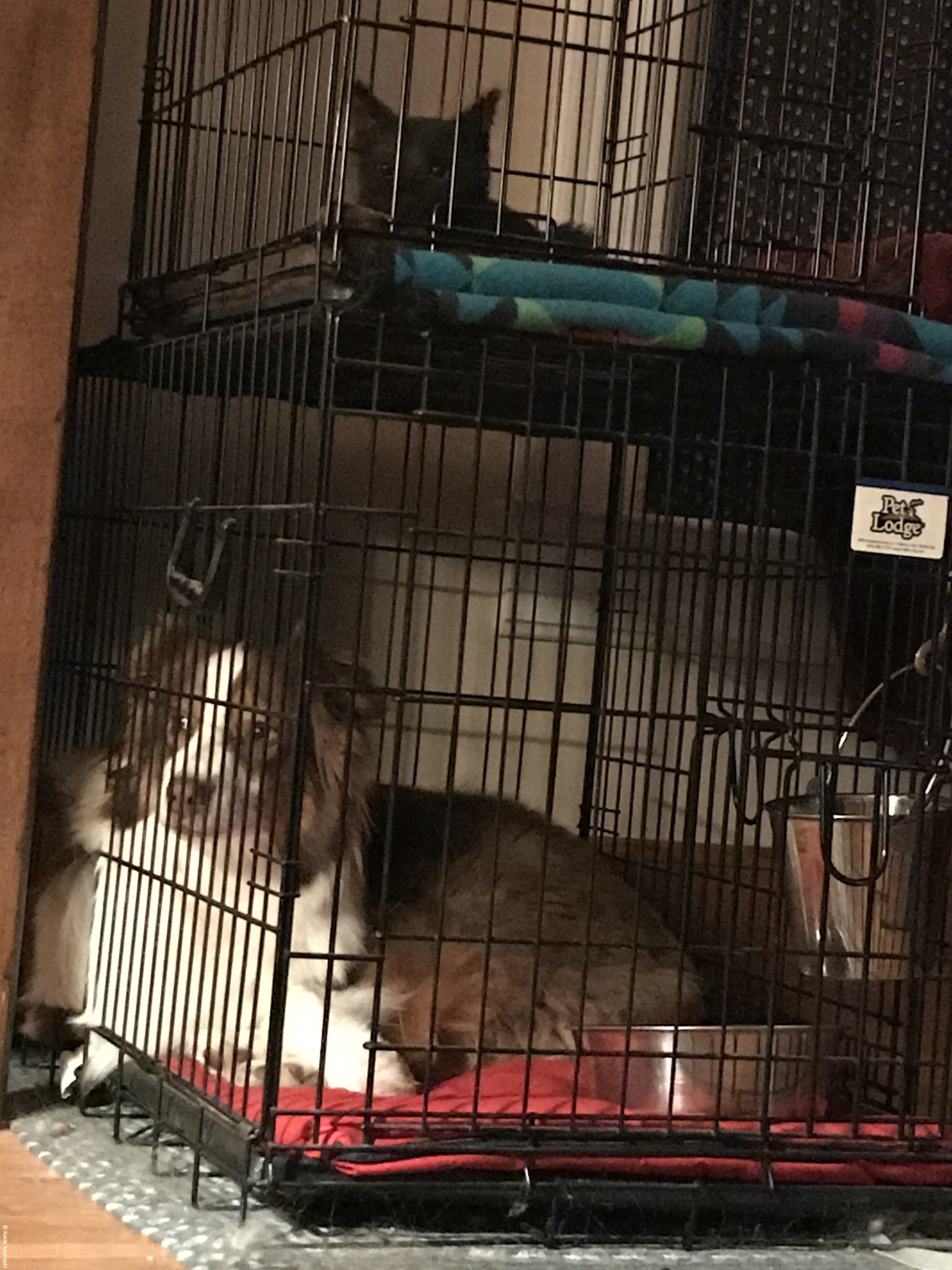 In a few days this little cat has become the boss of the house. Nightbird is chill, but Little Dog doesn't know what to make of him. This kitty will dart out and chase her, but if she comes at him wrong, he will hiss and she will back off. When it becomes too much, everyone goes in a crate. The other night Bitsy saw him on the landing and came down the stairs to growl and grow two sizes. Bruce is afraid she might kill him, though Chris has said he's been hissed at in her barn by an older, grumpy cat and left that cat alone.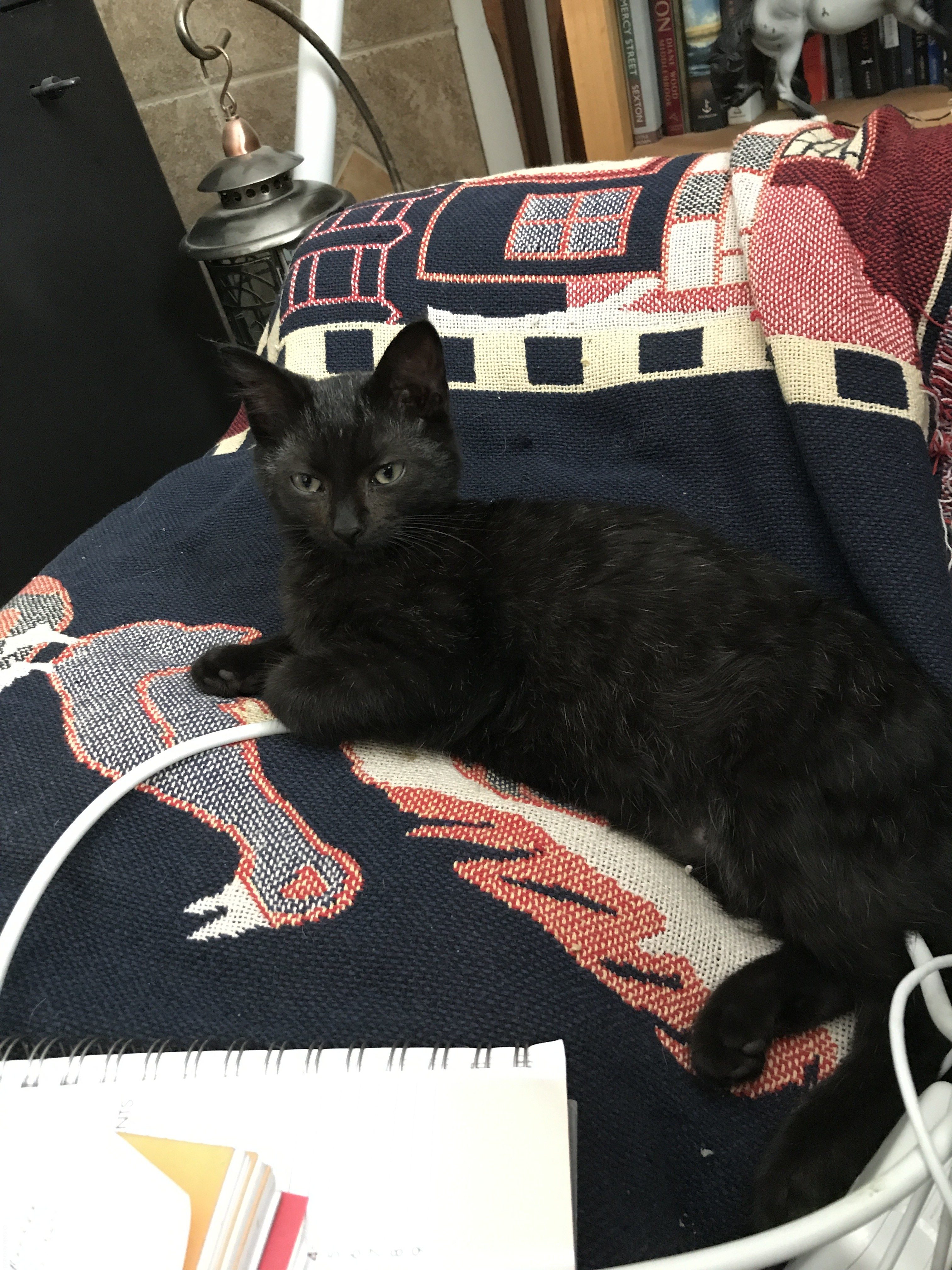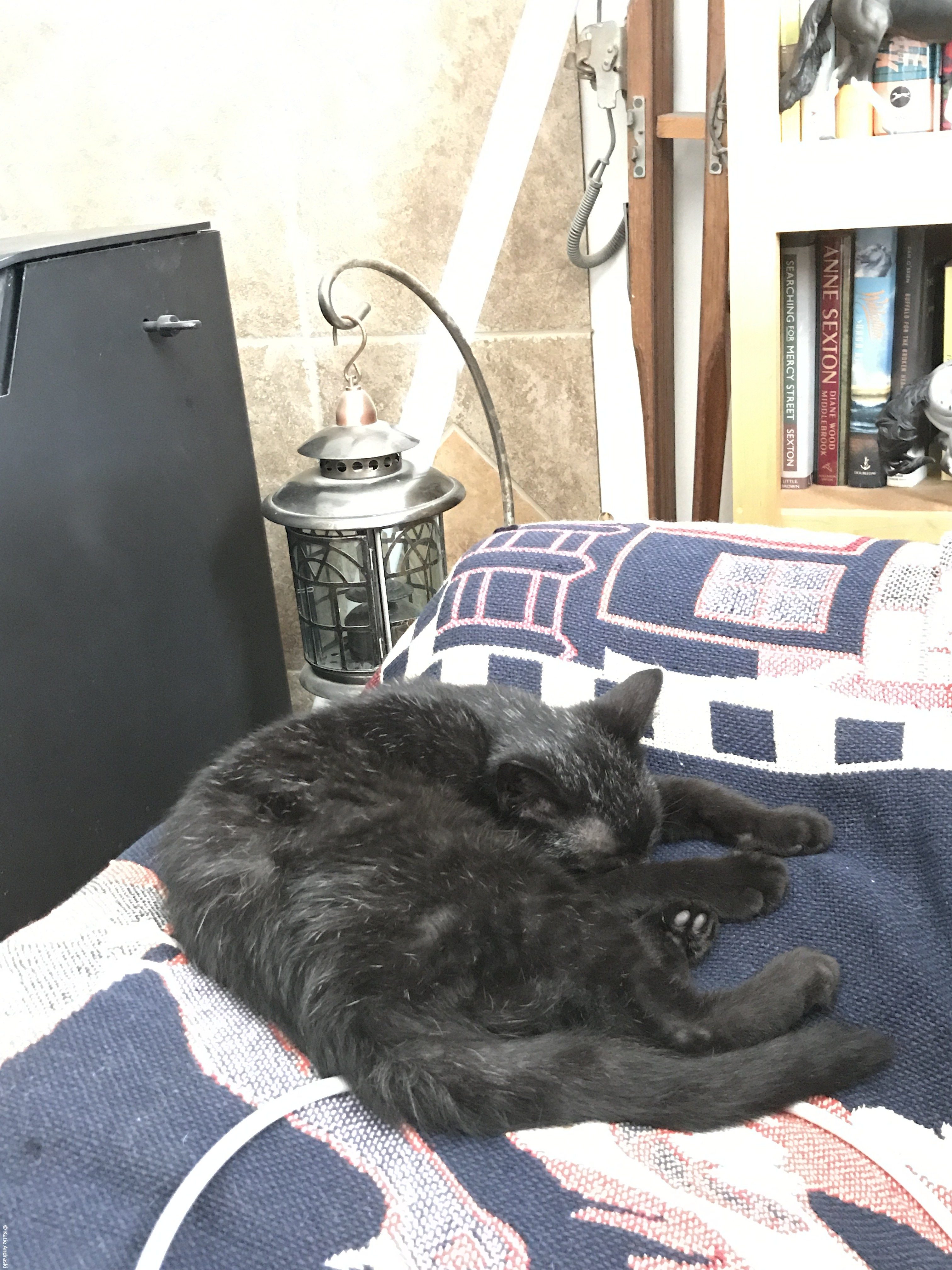 As I type this he is curled up on the couch next to me. (Onyx used to climb across my lap while I typed.) For awhile I thought I should call him Onyx but Bruce told me not to. Right now his name is Smudge that might change.
There's a mysterious verse in the Bible that says, "It is appointed unto man once to die and after that the judgment" (Heb. 9:27). What captures my imagination is the "appointed unto man once to die" part. All right no reincarnation for people, but what about animals? Do they get to come back? Does the movie A Dog's Purpose that imagines a dog who comes back to different owners and finds his first owner at the end, have an insight? Or the folk song "The Cat Came Back" have some truth?
Maybe this is putting too much emphasis on the bond I had with a beloved cat. Maybe I'm supposed to grieve with an emptiness that will never be replaced. Maybe this is heresy. But scripture says that creation groans in labor pains for the revealing of the sons of God and that someday it will be redeemed. God created the world and animals and heavens and mankind and called it all good.
And for my friends who think this is heresy or bull shiggedy, I get it, that this is a meditation based on speculation, observation and imagination. But I tell you the world is ribboned with mystery and kindness and goodness—the kind of goodness that brings a kitten dumped into a ditch to a woman who dearly misses her friend.