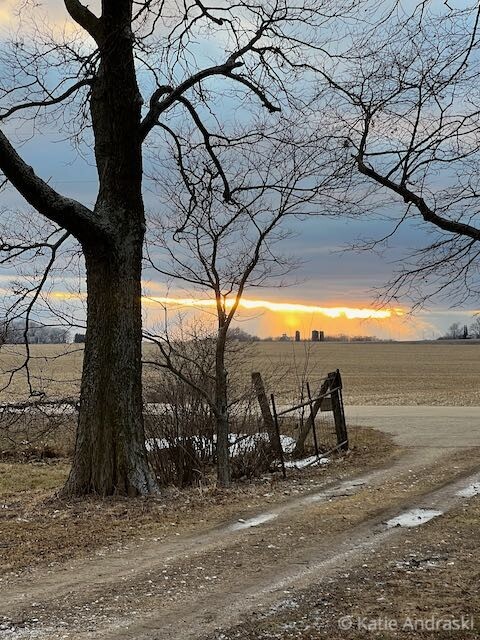 Recently I went to Alan's celebration of life and wish I'd spoken. I did not know him as a proud horse show dad, watching his daughter ride her pony over jumps, or as a man standing by a quiet stream throwing lines out for fish. I did not know how precise he was working in the dairy industry, or his handsome, assured presence.
The Alan I knew had Parkinson's, barely able to walk, or speak, or cut up his own food. I was tempted to avert my eyes, but I watched how carefully his wife took his elbow to help him stand or sit, with only love and respect, and absolutely no resentment on her face. I watched his daughter dressed in elegant white, dancing the father daughter dance, awkward because the disease had taken his grace, but their love was stronger than two legs waltzing.
When we drove by Alan and Susan's house, I saw Greg's truck parked there, often on his precious day off from hard manual labor. At the celebration, I heard how Alan's friends visited him, how they kept him engaged and happy.
I wish I'd said what I saw, a love that persists in sickness and in health, in February, the month when we celebrate love, that surprises us with mud season one day, and hard driving snow, that blinds us when the sun shines, the next.
I'm Katie Andraski and that's my perspective.
If you'd like to hear me read this, click here.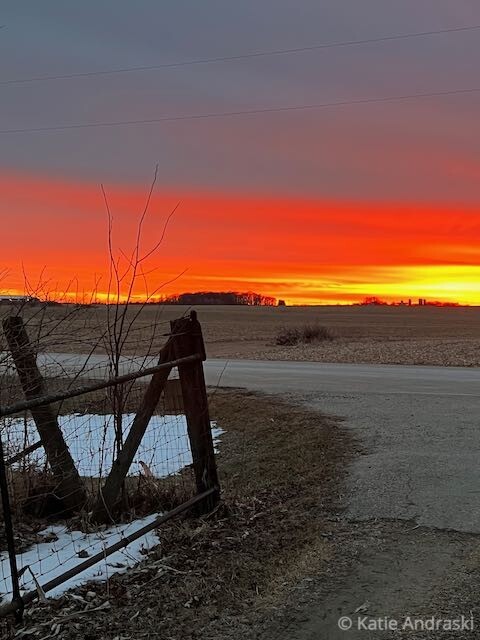 The ice storm knocked out our power for an hour, but my goodness that hour in the darkness scared me. The house was darker than dark nights outside walking the dog. We have candles but won't use them with the cats and dogs. I couldn't read. We'd miss the season finale of Tough as Nails. I was not happy about walking across slippery ground to do final chores. Years ago I fell on black ice, while walking the dogs, at 5 am in the morning and whacked my head so hard the world swam and I felt like vomiting, so ice scares me. Our weather guy told us to walk like penguins, so I walked like a penguin to the barn. Morgen nickered when I walked in, not blinking when the lights were switched on because there were none to switch on. Fortunately I'd stock piled water buckets. I whispered the whole time. Threw her plenty of hay. She dug into her minerals and beet pulp. I walked back to the house in the dark.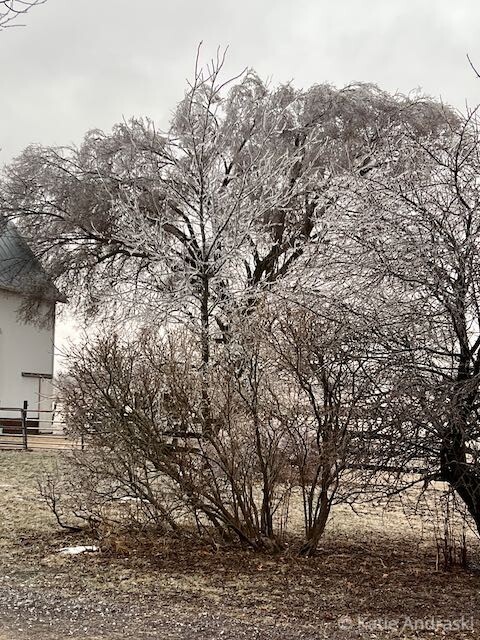 I did not like the darkness or the threat of days without power, without all the good things abundant, working energy, brings like frozen food, cooked food, warmth, water to drink, water to wash up, television, our phones keeping us connected, a sump pump to keep the basement dry. About the time Bruce was hauling open the shed door to pull out the generator, to run the sump pump, I gave a shout, "The lights are back on." The acid feeling around my heart eased. For awhile now I've felt there was a threat just below the horizon, and now whatever it is is rising, slower than the sun. And there was no "joy of the Lord is my strength" just with this brief outage. How would I do if there were a longer one? We have good neighbors, who checked in by text, "Is your power out?" I guess maybe we could talk about a whole house generator.
We'd gotten a notice the power was out earlier in the afternoon when it wasn't out, so we figured Com Ed turned the power off when reconnecting the hot wires. The hotshots who repair broken lines and poles when freezing rain is pelting down are public servants in the most fierce sense of the word. It can't be easy for spouses when their husbands head out in weather that is frightening to drive in, to be hoisted in buckets to fix broken wires. It's a fierce service that is brave and otherworldly. Not unlike how God has served all creation, in some ways, stringing hot wires together to make it all, to make us.
The next day high winds shucked ice off branches, the ice beat against the house. Ice fragments looked like broken wine glass stems. I saw next year's leaves scattered in the horse paddock. Those pieces whacked the house and barn. A branch tore off a young popple tree. But our elm tree stood. The oaks did. And The Tree was undamaged. The weather warmed. I could walk to the barn without being afraid of falling.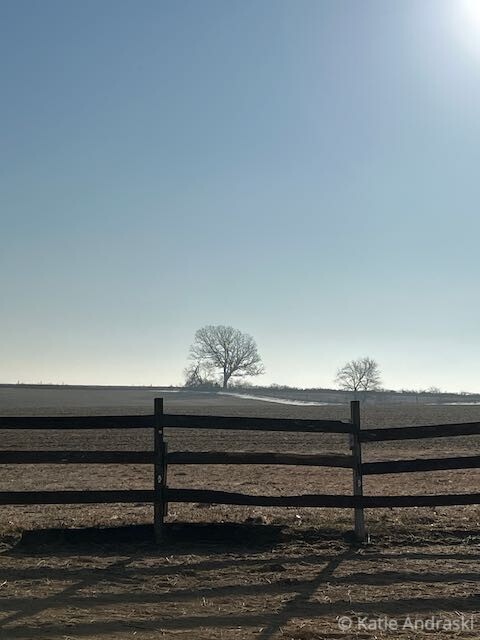 Well, that's all I know for now.
Where has goodness, or practical love shown up in your life?
If you'd like subscribe to these blogs, go to https://katieandraski.substack.com/subscribe and sign up.