Celebrating April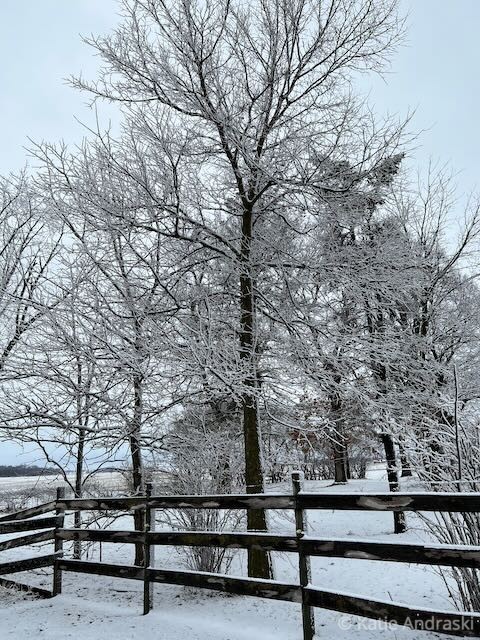 Winter has lain heavy on me. Even on cozy days with snow falling, inviting me to read, I'd read a page and drift into sad, lonely thoughts. To do chores, I'd eat chocolate and wrap myself in more weight—long underwear, shirt, sweatshirt, heavy socks, boots, vest and coat so that I can bear the cold, the damp. So many layers between me and the world. So much work to break out of sleep to take the puppy to potty in the dead of night, her energy during the day, too much, and I don't feel good. That weight of winter seeped into my soul, so I shuffled through my days. I often napped.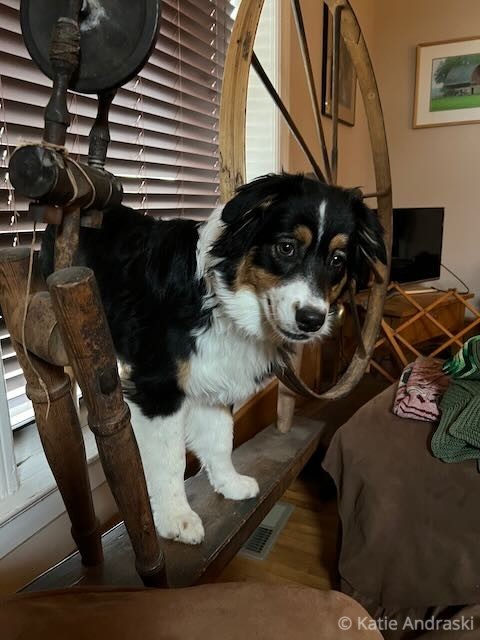 But here in April, the sun is yawning and stretching his arms into days longer than nights. Daffodils, tulips, robins and red wing blackbirds sing. The puppy is six months old and sleeps through the night. Finally, she's got us house trained, taking no longer than a commercial break to do her business. Omalola is joy incarnate, the joy of the Lord. I throw a frisbee, she returns with a smile in her ears. She shakes toys out of the bushel basket. She jumps over the other dog and onto the couch, exuberant. She crawls under the table. When she's too much I tell her, "Settle." Because even joy needs a little quiet. And my own heart lifts up. I feel light as those bubbles children fling into the air.
I'm Katie Andraski and that's my perspective.
If you want to hear me read this aloud click here.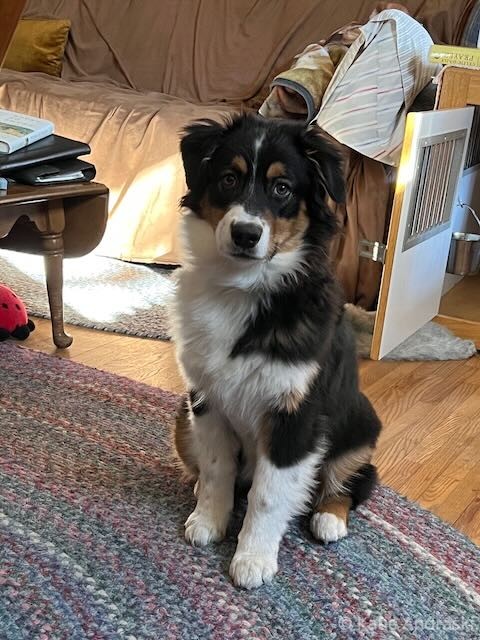 The First Tornado Warned Storm (March 31, 2023)
They warned us for several days that Friday's storms would be bad. They warned us to put together a kit for the safe place. These storms would be bad they said. At first we were on the edge of the moderate list, but then it moved to elevated. Just west of us the tornado watch was labeled a particularly dangerous situation.
All day Bruce listened to Ryan Hall Y'all, a storm chaser and weather analyst who reads radar for tornadoes and debris signatures as violent storms crash across communities. He posted videos in real time as the storm hit Little Rock. He moved his cursor between storm cells in Arkansas, Tennessee and Illinois. Bruce watched his iPad all afternoon. Hall's quiet, tense voice filled our kitchen, and tightened my nerves.
I felt the high whine of fear (think the hum of high tension lines on a humid day) and shuffled through moving stuff to the basement. Then I checked Facebook often because a member of our my favorite Facebook Group had been suspended for being too salty. Hall kept saying you have plenty of warning–take blankets, food, water, helmets to your safe space. I packed up valuable papers, my cheap jewelry, but my rings on my fingers. Bruce and I carried dog crates to the basement. We set the cats' crates on the loveseat so we could load them at the last minute.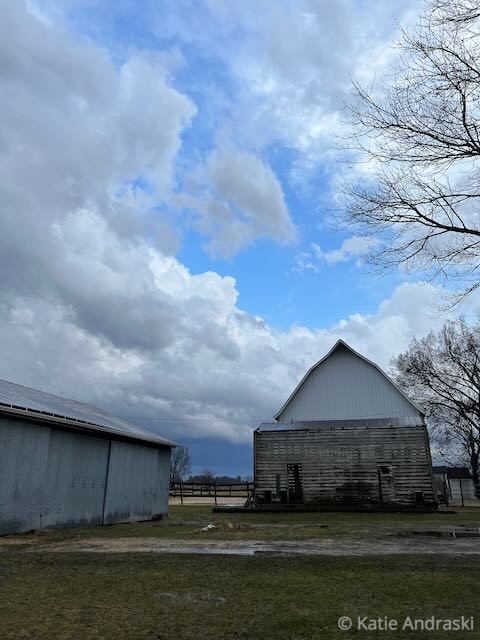 At the first sound of thunder, at 3 pm, I brought Morgen in, put her halter on, and threw an armful of hay. I questioned whether I should move her to the other side of the barn because her stall is next to the big barn heavy door on the western side if the barn, that wind could flip up, but I left her in her familiar place. Besides there are no windows there. Because I was afraid the storm would knock out a line of poles and our electricity could go out for a few days, I drew water in the tub and stockpiled buckets in the barn.
I worried about how the wind might shred our trees. I worried for The Tree.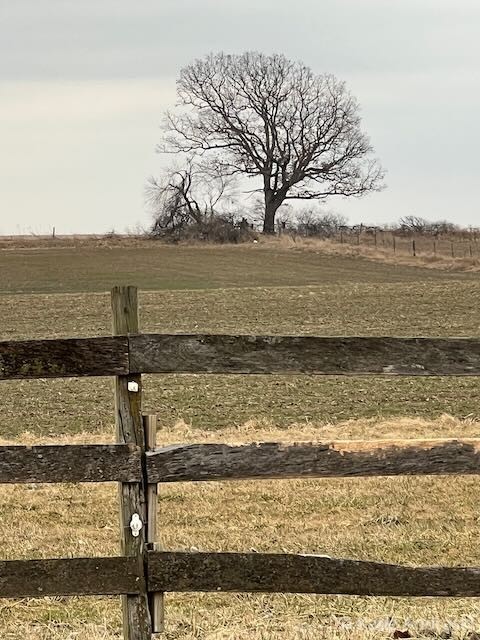 I prayed God make it dissipate and asked for prayers on Facebook even though I don't like to lay my fears on people. These warnings reminded me how the Northern Illinois Storm chasers predicted storms than produced the Fairdale tornado eight years ago days before it hit. I watched that tornado aim straight for our farm. And I remembered how people prayed, texted me. I swear their prayers shoved the tornado north.
I get it, how animals get riled up before a storm comes. I've seen Morgen lift her nose, run from one end of the paddock to the other. Tessie bolted, threw me hard, when the weather was changing. I wanted to run and kick and scream. I forgot to breathe in, breathe out, a practice I use when Morgen's ears fly forward and her trot quickens.
My favorite group on Facebook yapped about their outrage or agreement or jokes over the person who had been banned from the group. I loved the distraction. The outrage. My brain felt like it was sliding on water slicked ice.
Every storm like this, I wryly think that it would be a way to declutter, force me to start over with less. I could imagine all my books flying in the air like pigeons, all my paper cartwheeling among the clouds. I wouldn't have to reread my notebooks before I burned them, or be sucked into woe-is-me from years ago. A hard wind would be a hell of a sudden cleaning, not the gradual taking stuff to the Salvation Army, the used book store, the dump or or giving it to relatives or auctioning it off. The scolds tell us to declutter our homes so we can think straight and be happy, but that idea is its own clutter adding to the overwhelm. (There is something to how decluttering eases frustration. I threw away most of our plastic food storage containers and left the glassware. It's true, I'm no longer combing through plastic piled on plastic looking for lids matching the bowl.)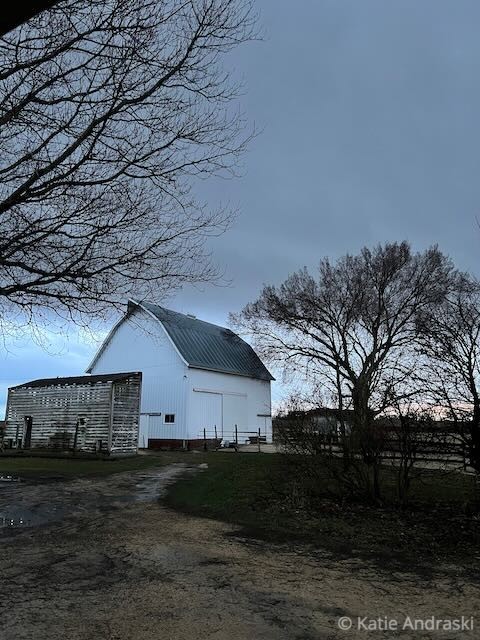 The sky darkened. I pottied the dogs. Omalola needs frequent trips outside and I didn't know how long we'd be stuck in the basement. A friend texted me with her own trouble. And I felt the high whine of the sky getting darker, the pressure to take last minute things to the basement and stuff the cats in their crates.
The sky darkened more. Lightning snapped below the horizon. The storm was silent. When I was a kid, before a storm that threw golf ball sized hail, you could hear the thunder while the stun was still shining. I picked up the cats and put them in the crates. We carried them downstairs. The dogs were afraid of the stairs. I don't blame them. They are open and scare me. I saw them being built. We coached the puppy to step down the steps. We harnessed Dolly and supported her as she climbed down. Bruce watched on the porch. I ran back upstairs. The sirens wailed. My phone said, "The National Weather Service has issued a tornado warning in your area." Even that voice sounded wound up.
"Bruce get your butt down here," I said. Every storm, I nag him to leave the porch and come to safety.
He placed his iPad with Ryan Hall Y'all talking about how bad the storm was. Somewhere in Dane county they asked for a reverse 911 call because of a toxic leak due to the storm. He asked where is Dane county? Madison.
But after all that, the storm was strangely silent. And over. The lights blinked out for a few minutes. We trudged back upstairs. The dogs didn't like the spaces between the steps. Neither do I. The post storm wind roared, but with the moon rimming the clouds, I felt joyous, relief, until word came in that the roof on the historic Apollo Theater collapsed on 260 concert goers, one fatality and 40 injured.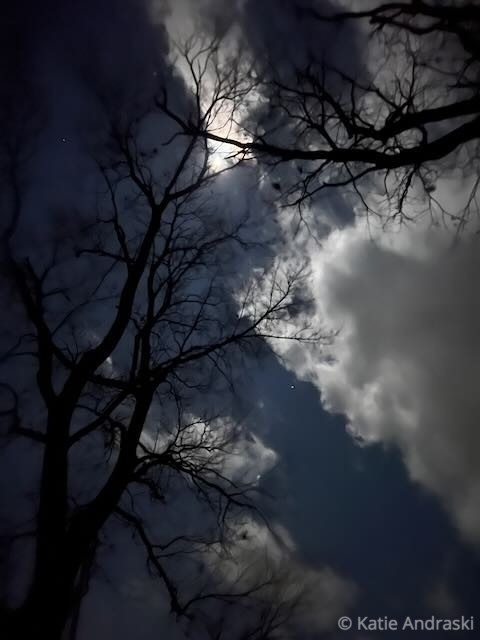 A Second Round (April 4, 2023)
We're under a similar threat of storms today. Already we've had one round of storms that dropped pea sized hail and a hard rain. Our fields flooded. There was joy here, the wind and rain snorting and bucking, whirling and galloping hard, halting and snorting.
The weather guys say there will be two more rounds, the final one coming in the middle of the night, the most dangerous. On the other side of the front, it's in the 70's. Here I'm chilled by the wind and 48. They say it'll warm up and boost the storms coming this way.
But this time I'm casual about the whole thing. Maybe it's like learning to drive in the snow every year. You're tense at first, but not so much after. I'm not looking forward to the worse storm coming in the middle of the night. Guess I'd better stock pile water buckets. And maybe ask for prayers yet again. I think about a prophet's words,
"Come, let us return to the Lord;
for he has torn, that he may heal us;
he has stricken, and he will bind us up.
2 After two days he will revive us;
on the third day he will raise us up,
that we may live before him.
3 Let us know, let us press on to know the Lord;
his going forth is sure as the dawn;
he will come to us as the showers,
as the spring rains that water the earth." (Hosea 6: 1 – 3 RSV)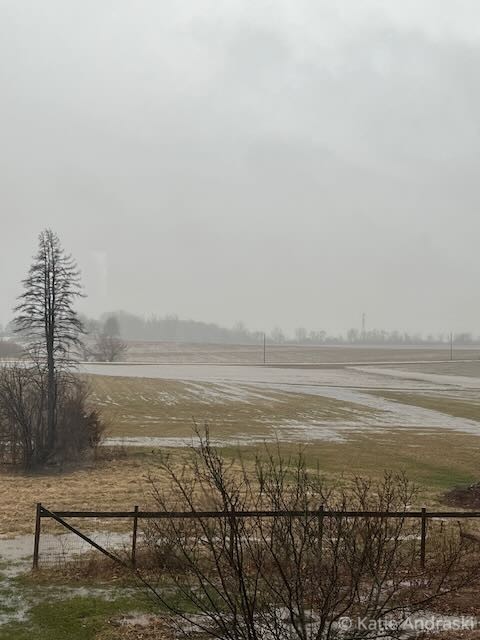 If you like to receive these right in your inbox, click here