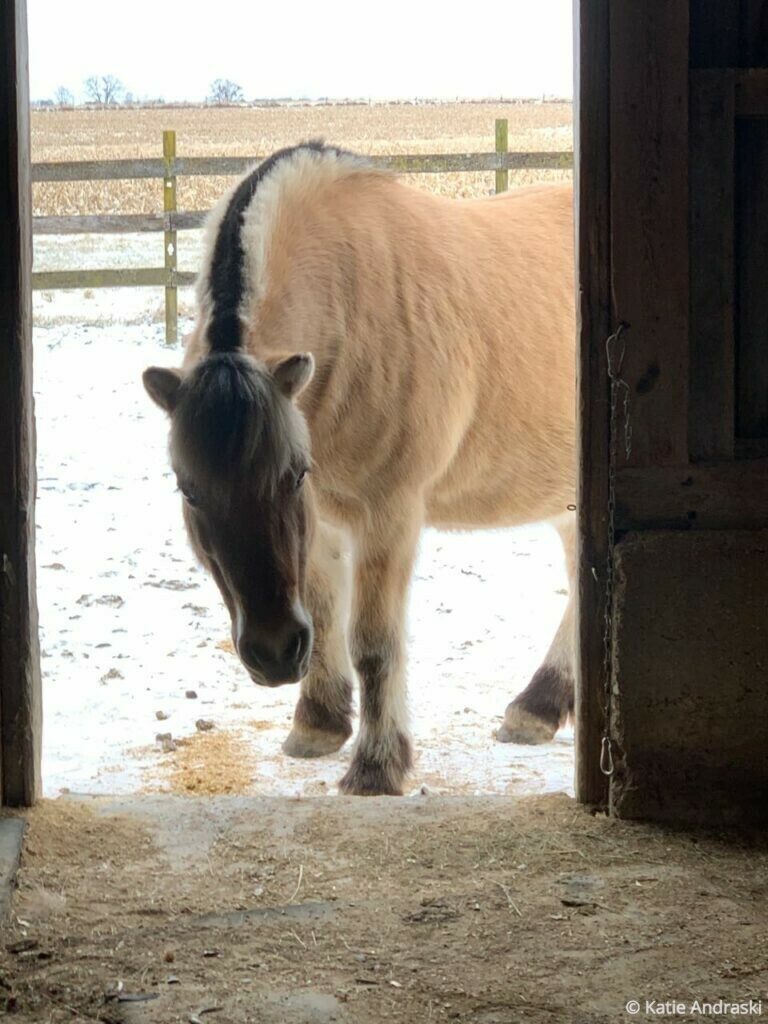 Glory be to God for poop. After a forty-degree temperature change and full water buckets, across two days, I was relieved to see big piles of manure in the mares' wet, dirty stalls. I was relieved to see buckets drained and bright eyes and soft hellos, sounding like huh, huh, huh, with a flittering of their noses, greeting me.
We call this weather colic weather because low pressure and wide swings in temperature can make horses sick. Horses are fragile creatures. They can't vomit, so when they get a belly ache they can die. Two years ago, Tessie's constipation pushed her spleen in the wrong place. She almost died.
When I walked out to do final chores, Morgen was not at the back door like normal. The mares were quiet — too quiet. I bedded their stalls, threw down their hay and walked out. Morgen stood by the front of the barn. Where was Tessie? She was stretched flat on the ag lime. In the dark of night. Had she died? (Horses can't lie flat out for very long without suffocating.) I called her to get up. She heaved and stood. She was colicking. The vet said to medicate her and not feed her.
The next morning, I thanked God for those piles in her stall. Poop, poo, crap, manure, dung, excrement, as humble as it is, is one of God's great gifts, not just in horses, not just as fertilizer, but for all God's creatures, including us.
I'm Katie Andraski and that's my perspective.
If you'd like to hear me read this aloud, click here.
*****
As I've tripped past sixty, I've become aware of just how precious my body is. That's why I've been writing posts about being mindful of our bodies, especially our senses. (Check out "Sacred" and "Minding Your Mouth".) And why I wrote a post celebrating poop using Tessie's story because a horse is more acceptable for a radio audience than bathroom habits. Pooping is a most humble function of our bodies and a gift. Even Jesus remarked about how it's not what goes into the body that defiles us but what comes out, using the image of defecation to shock his audience into considering how our words can reflect their own kind of filth.
St. Paul compares his accomplishments to poop by counting them dung in comparison to knowing Jesus. I wonder if we have any idea what this means, how knowing Jesus is as precious as the ground under our feet, and how crappy our own self improvement plans or good deeds really are. Since we have an instinctive disgust for these bodily functions, Jesus and Paul tapped into that to show us how even our good deeds and accomplishments aren't so good.
I've been listening to Christopher Blackeby who says over and over again how deeply, widely, broadly, God loves us. He echoes Paul's prayer in the epistle to the Ephesians: "For this reason I kneel before the Father, 15 from whom every family[a] in heaven and on earth derives its name. 16 I pray that out of his glorious riches he may strengthen you with power through his Spirit in your inner being, 17 so that Christ may dwell in your hearts through faith. And I pray that you, being rooted and established in love, 18 may have power, together with all the Lord's holy people, to grasp how wide and long and high and deep is the love of Christ, 19 and to know this love that surpasses knowledge—that you may be filled to the measure of all the fullness of God. 20 Now to him who is able to do immeasurably more than all we ask or imagine, according to his power that is at work within us, 21 to him be glory in the church and in Christ Jesus throughout all generations, for ever and ever! Amen" Eph. 3:14 – 21, NIV)
Blackeby has said that God loved him so much he told him to cease playing a pastor, to rest. He emphasizes that when we receive Jesus' rule in our lives we become a new species, in Biblical terms, a new creation.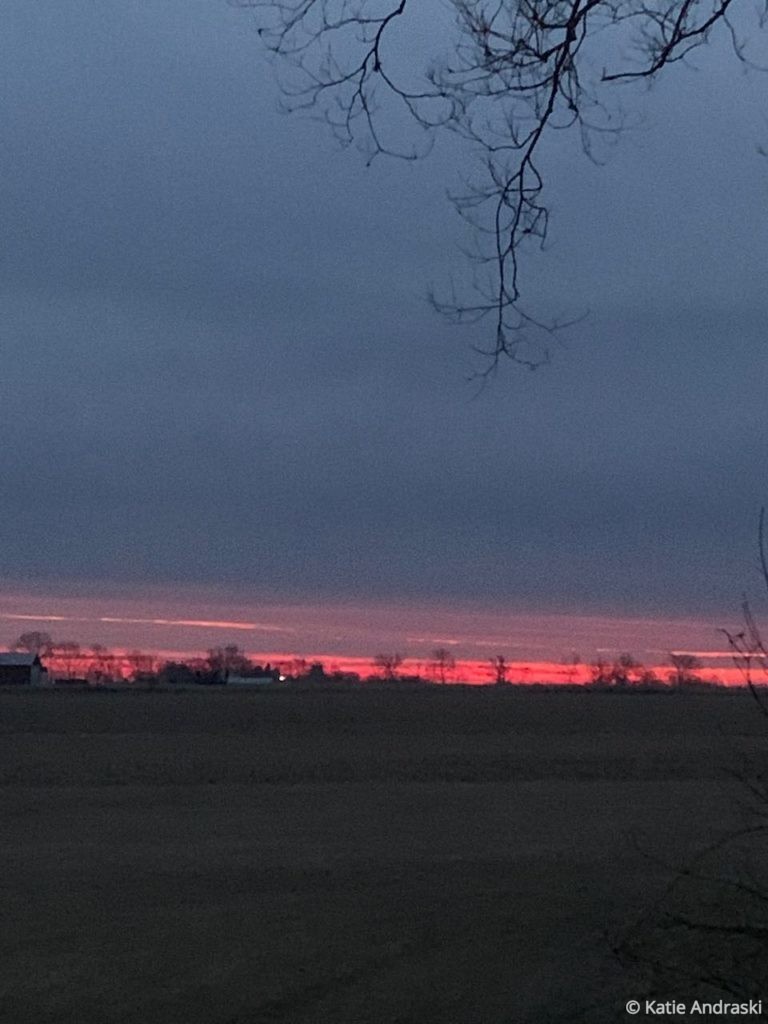 As a girl growing up when women's bodies were supposed to look like men's bodies, I used to hate my thunder thighs, round bottom and bulging stomach. I hated how my jeans wrapped their cloth around them, so I felt my fat as long as I wore them.
The culture said we had to look like Twiggy in order to be loved. In grade school I ate Carnation Instant Breakfast for lunch to tame those curves but with little success. As a young woman in college I'd feel my fat thighs as I was lying prone on beautiful hillsides in Wales, praying to be as beautiful as the countryside. C.S. Lewis says we have this longing to shine like the sun, that it's pretty normal. Even though I was in one of the most beautiful places I've ever been, all I could think about was how fat I was, how my jeans felt like barbed wire fences around me, my soul and I. I tried to think and pray my way to weight loss with no success.
Eventually I found Weight Watchers and learned all the foods I could eat and began to make make peace with my body. It has been Bruce's love that helped me celebrate my rumpiness, because he delights in it, in a similar, muted way that I believe God delights in me.
I've been told since I was a young girl how my body is a temple of the Holy Spirit, that it holds a Spirit that was so powerful in the old stone and cedar temple, a priest tied a rope to his foot in case he died while serving and had to be dragged out. It was so holy that if someone reached a hand to steady the ark, they died instantly. I always thought this meant clean living–no smoking, no drinking, no premarital sex, along with eat your fruits and vegetables, exercise.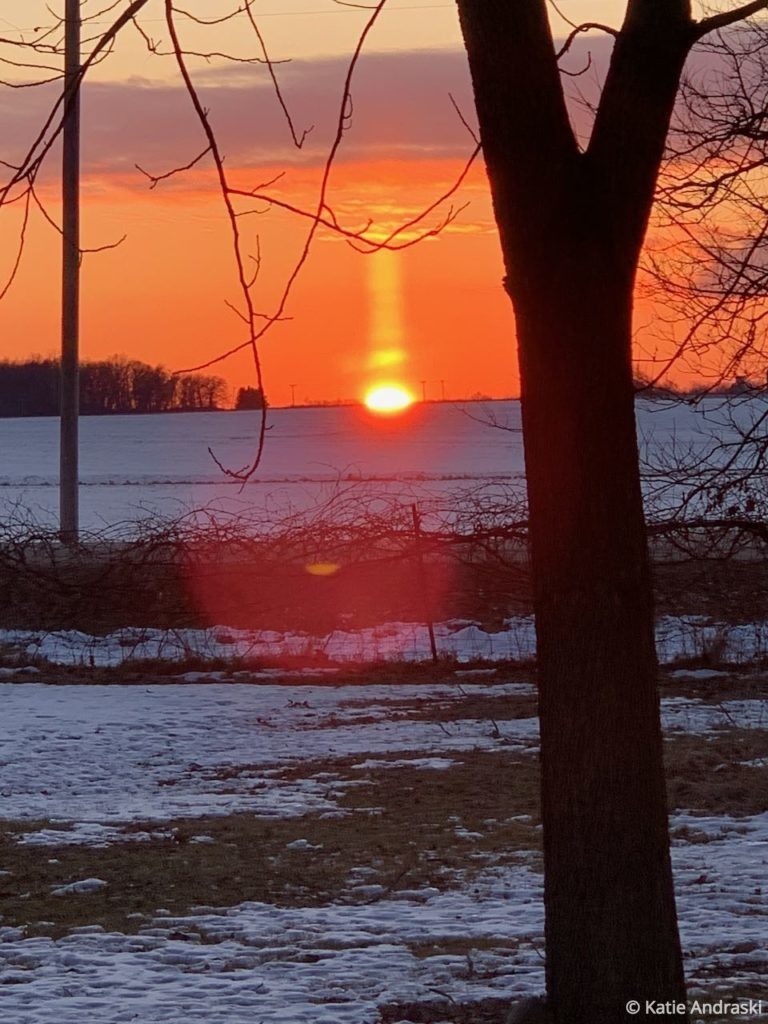 But lately I've come to understand it also means heaven has come to earth, now in our bodies. Christopher Blackeby says that when we believe in Christ we become a new species. Our actual DNA has changed. He emphasizes that the power that raised Jesus from the dead lives in us.
But the point isn't the power to heal, or speak in tongues or even raise the dead. (I have a friend who commanded someone who was brain dead to come forth like Jesus called Lazarus and that pastor's friend woke up with all his faculties.) The point is loving others. The point is allowing God to love us. We are surrounded by this love. The Psalmist says the earth is full of God's glory. The earth is full, fat full of this glory that is so easy to see.
The old, holy name for God is Yah-Weh. Breathe in. Breathe out. It holds us in the gift of the ground we walk on, and the gravity that keeps us there. And the gift of trees that grow dormant and bud leaves every year. It is in the kindness of a stranger opening a door for you, or you opening a door for them. It's in hugs with homeless women at a shelter, their grace in sharing their story, their grace in hugging back. The roar of joy.
*****
One of the things that I found grounding is sifting manure and urine soaked shavings from the clean. The barn holds me together because I'm outside, using my body. I get to accomplish something by cleaning out stalls and filling buckets and feeding the horses. Their polite eagerness to have their breakfast, feeding them carrots to say hello, their muzzles brushing against my hand lifts up my heart. And if I pause to listen to them eating, the sound of their relishing their hay is lovely. The barn sparrows remind me of that old saying, "his eye is on the sparrow" and I am reminded of God's presence close to us as breath. And sometimes the light slams against the walls and reminds me of Jesus as the light of the world.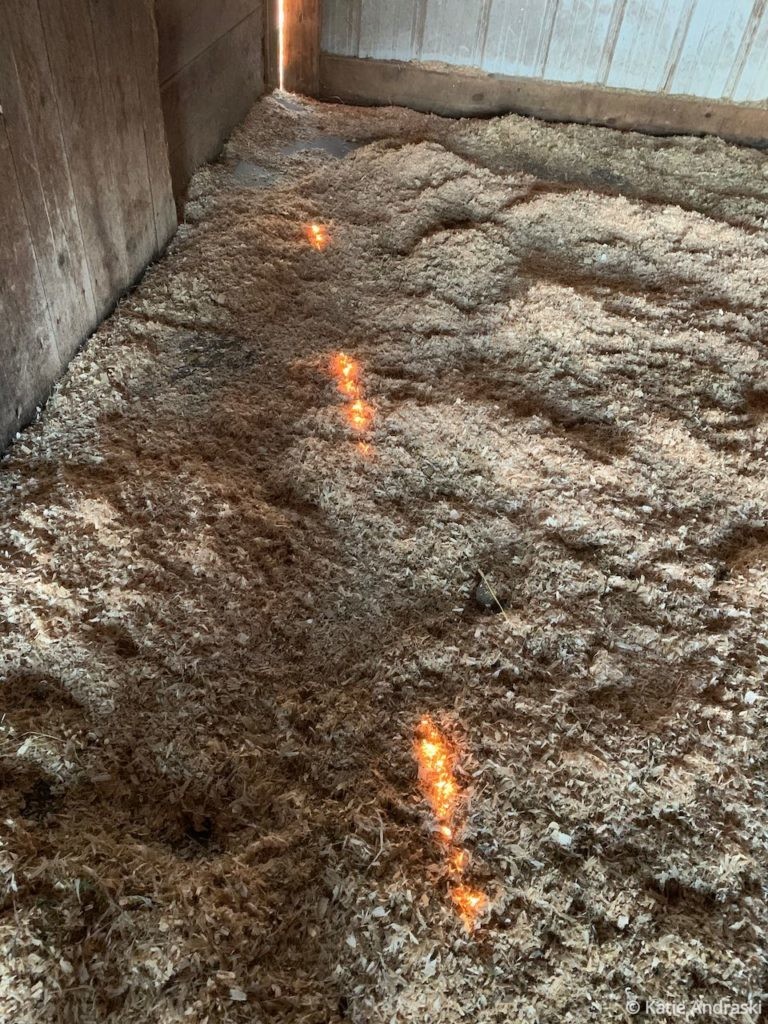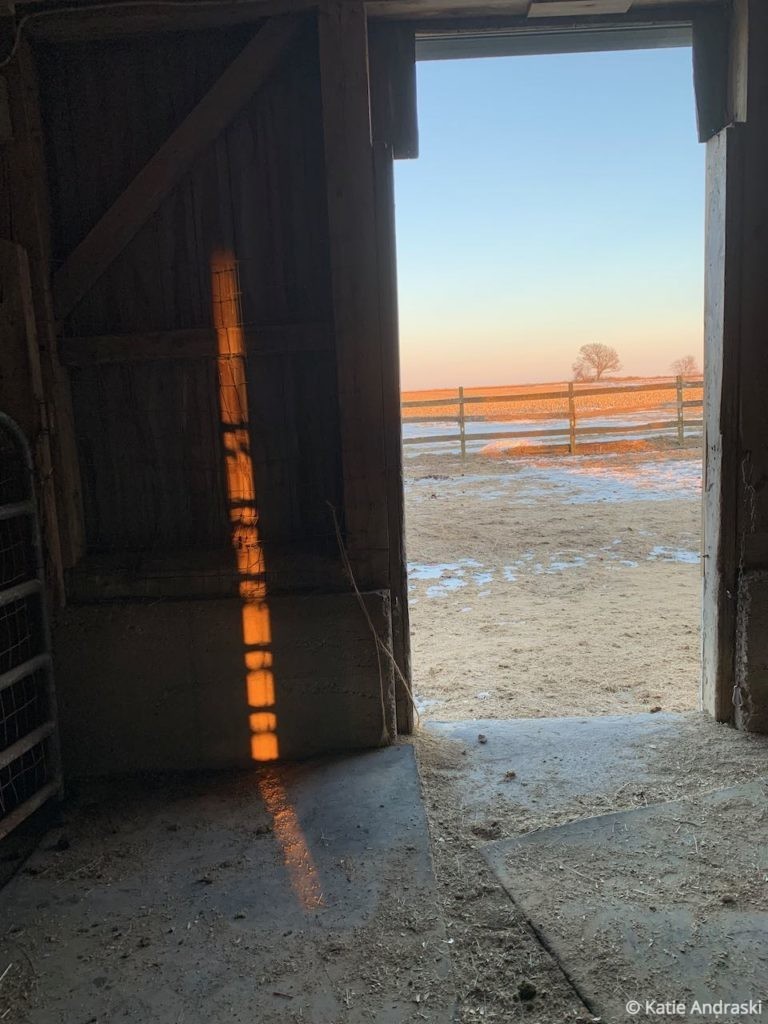 Horses have lower blood pressure than us and can lower ours. I have to be aware of them as flight animals all the time because they could kill you pretty easily, though this is not likely to happen because I've made friends with these mares. Listening to natural sounds can be soul restoring. Cleaning a barn, tending animals, can be deeply spiritual.
It's a place where I can be completely alone and whine, cry and complain if need be without Little Dog cowering because she's taking my loud voice personally. (I can't even raise my voice at the television without her slinking away.) I can sing gospel choruses if I am so moved without the dog whining and jumping in my lap. The horses are outside eating hay, so my careening emotions won't bother them. Mostly I just mutter prayers for people.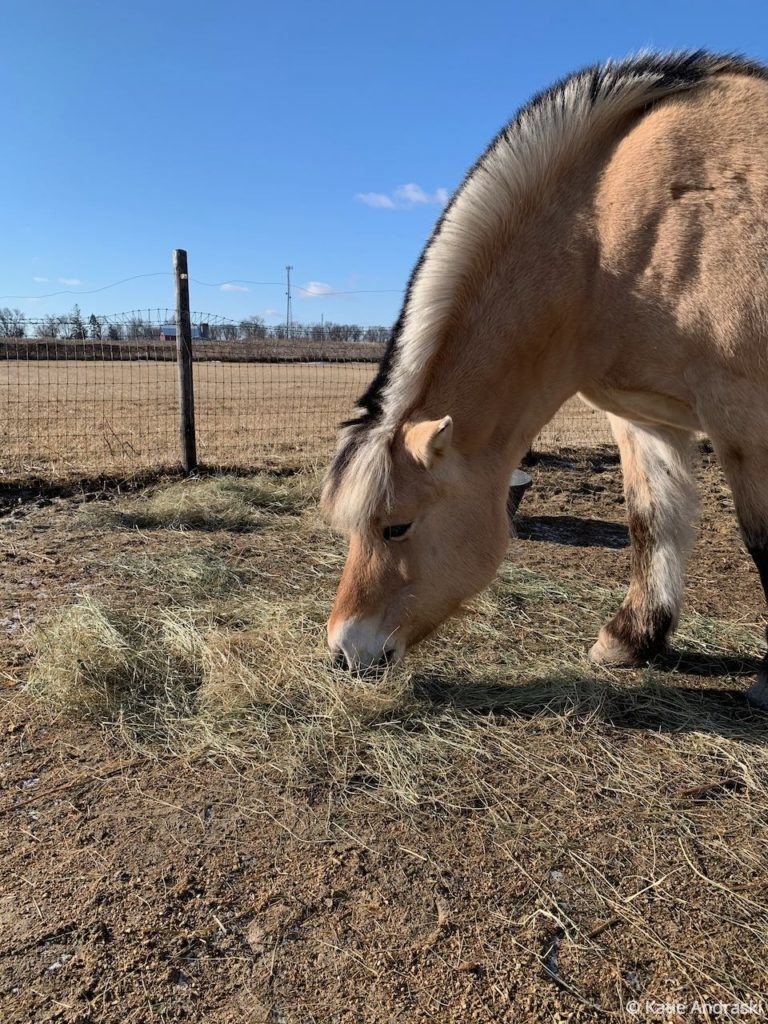 Bruce helps, reaffirming our partnership, his lovely willingness to help me finish early especially when it's bitter cold or I'm not feeling well. He throws down hay from the loft because I am afraid of those first steps off the ladder and onto the ladder. I am afraid I will knock the ladder down and be stranded though our loft is not high up. But Bruce has learned that I want my time alone with God, so he leaves the barn mostly to me.
*****
I was surprised when this WNIJ piece was published, two other authors wrote about shoveling manure, with very different perspectives on the subject. Amber Haines wrote about the goodness of sifting manure from clean shavings and how manure fertilizes the ground and makes it come alive. She referred to a book Holy Shit that expounds on how valuable it is to put manure back into the ground and says farmers don't do this, though we were treated to our neighbors knifing liquid manure into their ground periodically. Those were not good days to hang out laundry. Every fall, our hay guy, spreads our manure pile on our field. One year the City of Belvidere even spread people poop on our fields, which rutted our fields, made them stink like sour laundry but produced a good crop of hay. We were told it was treated and environmentally all right to spread, though we'll never do it again because there are chemicals that can't be filtered out of human waste and we don't care for those being put in our fields.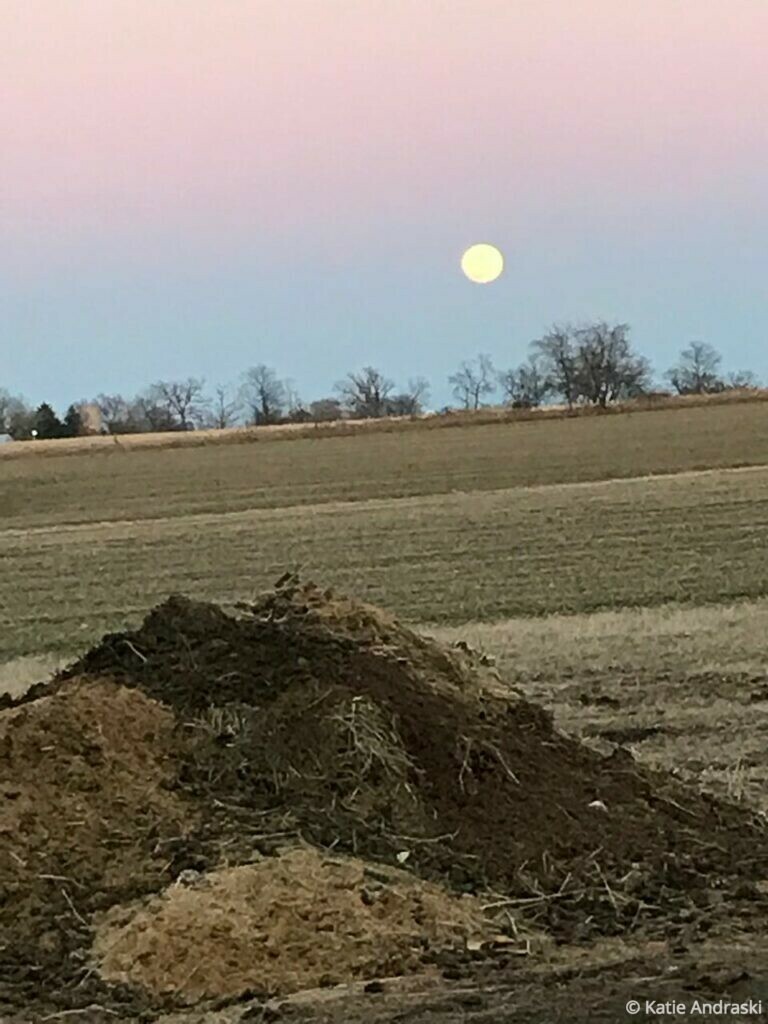 Another writer Catherine Sewell, who is writing about working with her horse, also wrote about how cleaning her barn is very grounding here. Elizabeth Gilbert may well be spot on when she says that ideas fly around in the air waiting for a writer to capture them and jot them down. It's very interesting how similar ideas flutter around the air and different authors can grab them and write about the same subject. And it's comforting how people can write about the same subject and write completely different stories.
*****
I apologize for taking so long to write. My website broke at Christmas and it took a few weeks to fix it. Then when I sit down to write, I felt like I didn't have much to say. I've been handwriting stuff I wanted to keep as far away from the internet as possible. Sometimes a person needs to be alone with their work. Then I got acute bronchitis and felt too punk to write. I bought a new computer because I was hearing about others' Macs failing, and since mine was six years old, I thought it was time. But it was a bit of a drama to get my photos off the cloud. Apple has stellar tech support. The novel Corona virus has kept me pretty distracted. So those are my excuses.
At any rate, how are you doing? What's going on in your lives?
Let me leave you with a prayer from the Book of Common Prayer: Keep watch, dear Lord, with those who work, or watch, or weep this night, and give your angels charge over those who sleep. Tend the sick, Lord Christ; give rest to the weary, bless the dying, soothe the suffering, pity the afflicted, shield the joyous; and all for your love's sake.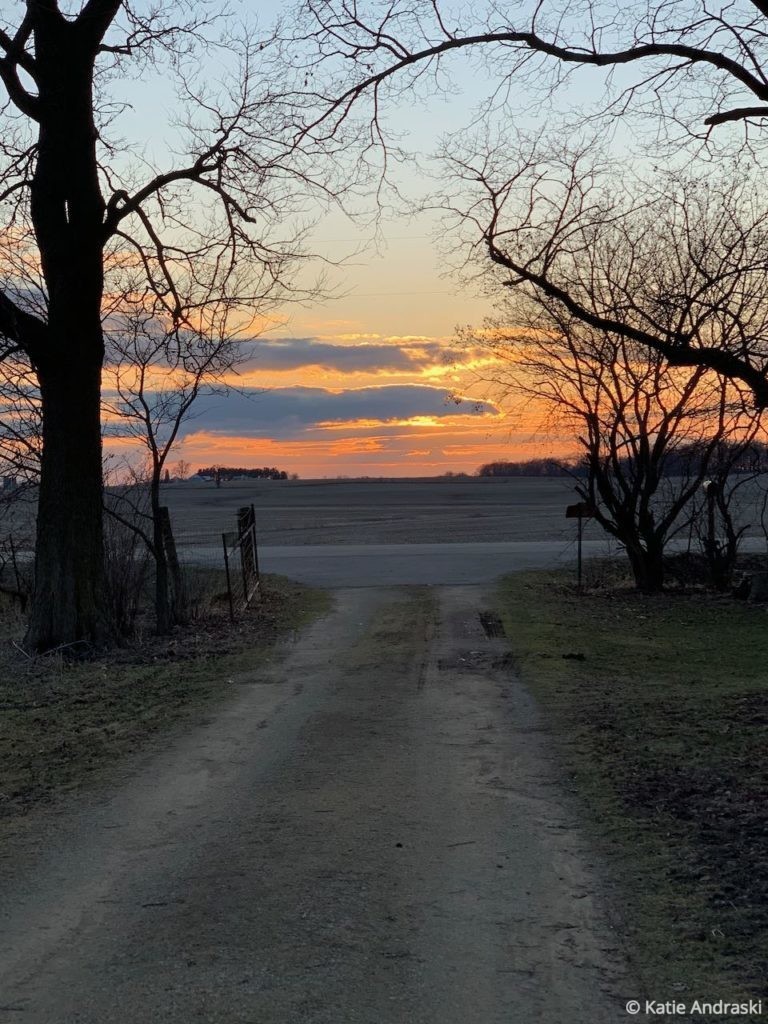 Oh and walk towards the light.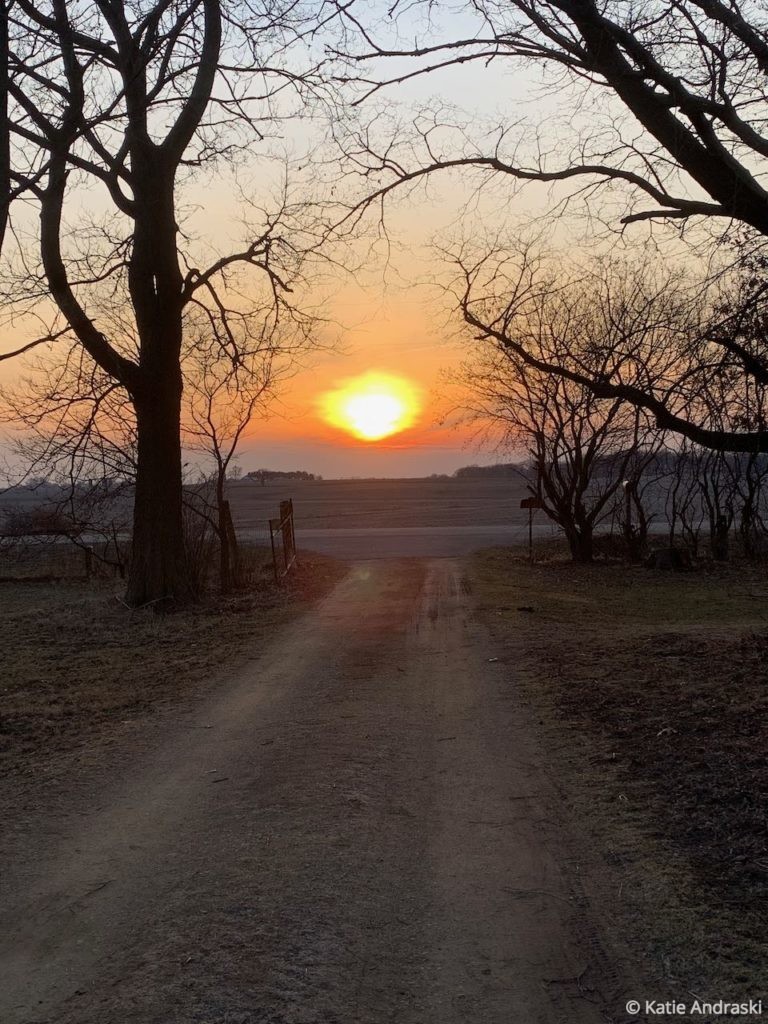 If you'd like to subscribe to these blog posts click here: