Today I'm writing about some things around the farm. I may post a few more of these as I've got some fun pictures stacked up. I may post a little more often with less depth.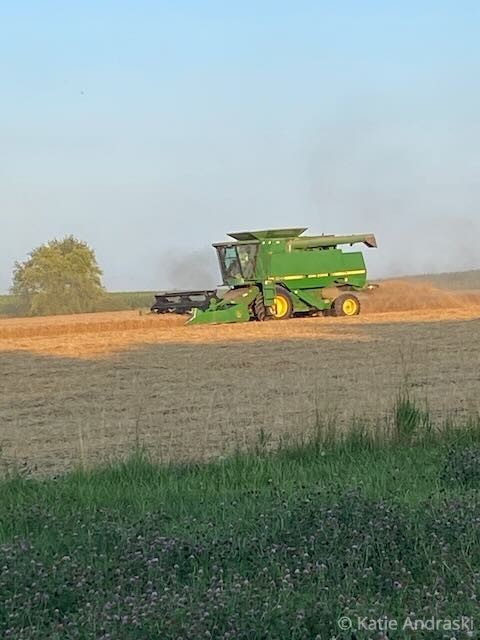 All summer I've been longing for rain. So have the farmers. My insurance agent we haven't gotten enough rain to make a difference for the corn and beans. (I've not verified this with farmers I know, though the ears on the corn stalks look mighty thin.) Our neighbor said he harvested 84 bushels to the acre as far as his wheat goes. He said that's surprisingly good for this year.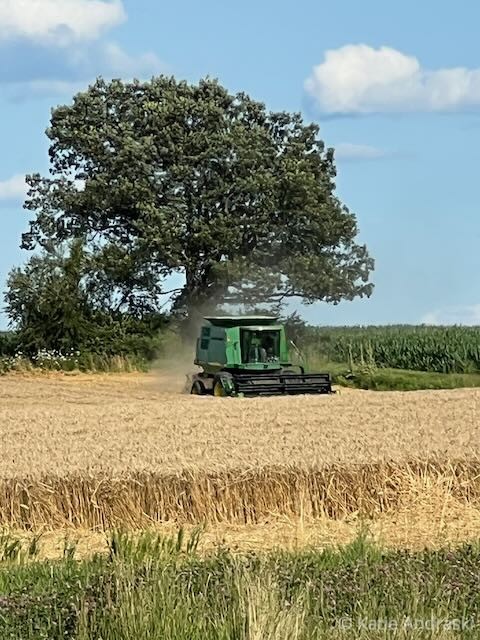 When I was a girl I remember wheat being taller, and you could lie in it, and follow the stems and the kernels up to the sky. I was just a child the first time a farmer planted winter wheat on our property. Here's a memory:
BEFORE HARVEST
The first summer Mr. Miller planted winter wheat,
he brought us a jar with a red rose on the lid
full of seeds smooth as fannies. He handed them
to my mother to show her what he would be planting.
She said yes seeds were good as kittens to teach
her children about life. The first day I took
Social Studies, we read about store-bought bread.
I told the teacher I knew about the wheat part.
"Just read the page," she said.
Before harvest, we drove to church and stopped
past our lawn. In a fog, spiders wove webs
like Queen Anne's lace as far back as the woods.
I would have begged my parents to stop and watch
until the sun if I'd known the webs would break.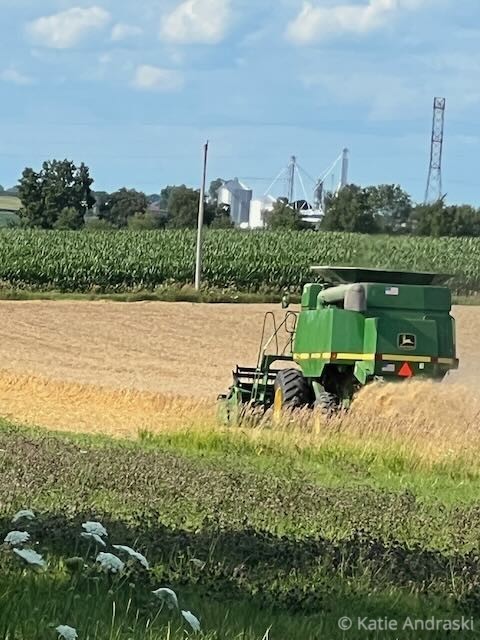 And then just before my mother died she complained about the farmer I loved–I turned him into my friend–saying he would be failed because he didn't clean up the straw after he combined his wheat. That wasn't the man I knew, who slammed out of his tractor to pick up hay bales his kicker baler tossed over the side of the hay wagon. She rightly thought he was a bad match, but both knew it, despite my intense, school girl crush. After she died on Labor Day that year , he came back to bale his straw. Upstate New York wheat harvest came two months after it comes here in Illinois. Here's the poem I wrote.
SHE WENT TO THE TRACTOR
She went to the tractor and sat in the cab
the night after they buried her mother.
The man cut back fields and cleaned them the week
she died. He parked the machines to comfort
the daughter who went to him despite her mother's
complaints she was catting around.
Her mother complained the man left
the fields foot high in straw, unkempt,
"He will be failed from what he should have been."
The daughter knew she could walk in any loss
as long as she walked in these fields now softened
by light as the moon parted the clouds; the same
moon, the same month she walked to find calm
back home near Chicago after she'd arrived
from just missing the right words to tell
her mother goodbye, and two boys on bikes
crossed in front as she hitched up her pants,
with catcalls "My how sexy". She felt stripped
until this machine that could plow and plant and pick.
The man who drove it calmed her. She wanted to stay
by these fields and learn to work their light
even though it changed by the sun's whim.
For once she sat in the place where she put her heart.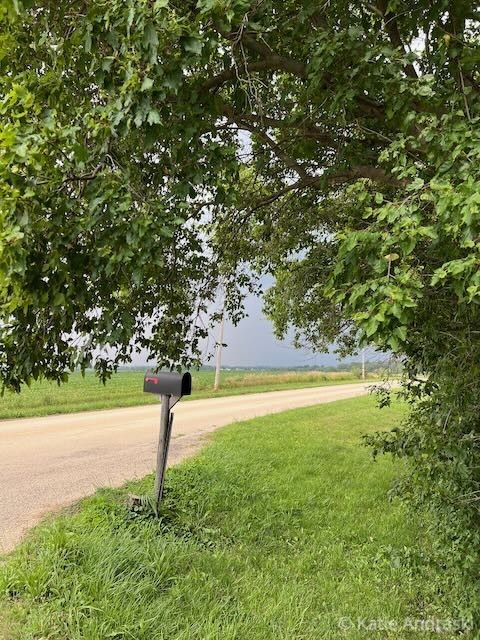 Those days were the beginning of a decades long walk through grief. The following passage from Hosea 6 comes to mind:
"Come, let us return to the Lord.
He has torn us to pieces
but he will heal us;
he has injured us
but he will bind up our wounds.
2 After two days he will revive us;
on the third day he will restore us,
that we may live in his presence.
3 Let us acknowledge the Lord;
let us press on to acknowledge him.
As surely as the sun rises,
he will appear;
he will come to us like the winter rains,
like the spring rains that water the earth." Hosea 6: 1 – 3.
This poem is true. The consequence of eating that fruit of the tree of knowledge of good and evil is death and the grief, the disruption that follows. The prophets often talk about God's wrath as a way of drawing his people back to him. He often says, "That you may know I am the Lord." I've been reading Ezekiel and want to say more, but not here. It's true that God does bind up our wounds. He does restore us so we can live in his presence. In fact that tearing is perhaps a way to empty us so we can walk in His presence. He does come like the spring rains that water the earth. He takes out our heart of stone and gives it a heart of flesh.
Our neighbors did not bale their straw this year. Instead, they dropped a ripper into the ground and turned it over. They said that the straw would fertilize the ground and soften it like horse manure does a garden, and make it easier to plant next year and let the rain soak into the ground more easily.
Back to My Longing for Storms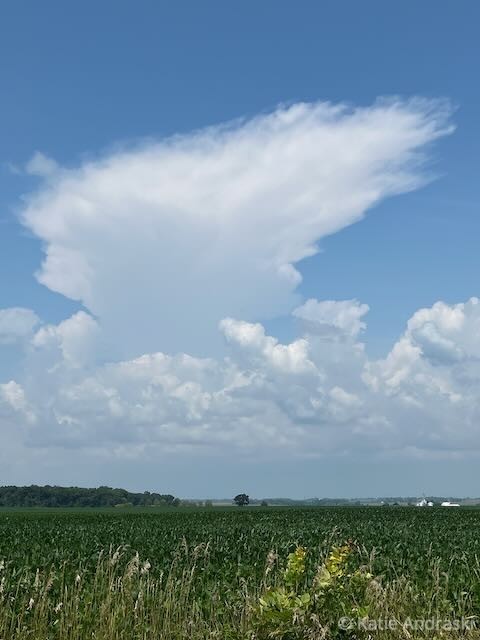 At any rate back to my longing for storms. I wouldn't do well in the desert southwest because all that sunshine and all those mild temperatures would bear down so hard, I'd want to hide in a dark room. I'd miss rainy days too much, where I could curl up with a book, not feeling guilty about not taking advantage of a beautiful day.
And there's something exhilarating about our local weather forecasters' exhilaration when there are storms moving across the area. If there are tornadoes or high winds in the area, my life flashes before my eyes. Might not be so bad if my books were scattered in the neighbors' fields. I wouldn't have to burn my journals because they'd be gone. The Psalmist begs, "Teach us to number our days so we can apply our hearts to wisdom." And so with each tornado warning I pray for safety and walk out the next morning thankful beloved trees are still standing. (I swear friends on Facebook prayed for us in 2015 when the EF4 tornado leveled many homes. It was aimed at us but turned north about a mile away and split into several smaller ones.)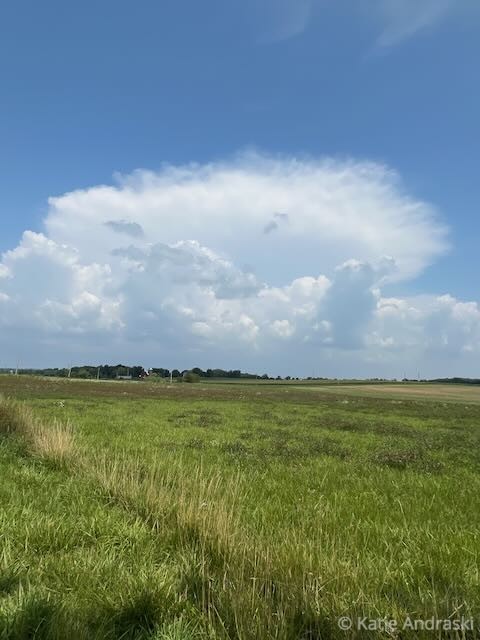 A storm was brewing the other week during dog class. Bright clouds were building to the west, still catching sunlight. Dark ones were building to the west. I watched them on my drive home. When I turned down the road, the brilliant white thunderheads towered. Below gray clouds. It was a magnificent sight, reminding me of how I imagine God on Sinai, talking to Moses or God leading the children through the wilderness with a pillar of fire at night and a cloud by day. But I was racing the storm to get home. I felt shy to stop. Omalola needed a potty break. The big barn door needed shutting and Morgen brought inside. I did not stop and snap the picture. Of all the pictures I've snapped I regretted not grabbing this one. But I thought it would be just as spectacular at home. But it wasn't. The image sits in my mind but won't ever return in quite the same way. I did snap this: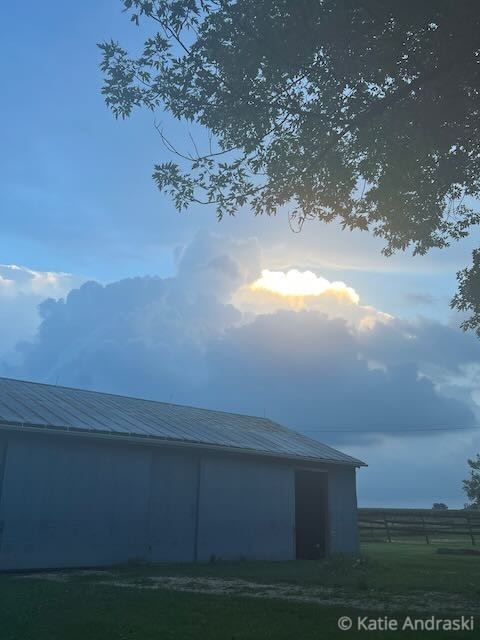 Scott Sherwood, a fan of this page, said it reminded him of the resurrection. He says, "The darkness at the barn door suggests the darkness of a burial chamber (I've been inside a few in Jerusalem) and the brilliant light in the high clouds suggests the passage of … something … from the darkness heavenwards."I didn't see it, but yes, this does look like an image the empty tomb and the glory of the our human god, ascended.
When I drive this way I remember the magnificent cloud, domed and bright on top, and gray ferocity building underneath even though I'm seeing the trees and pasture, farm buildings, parting for the road.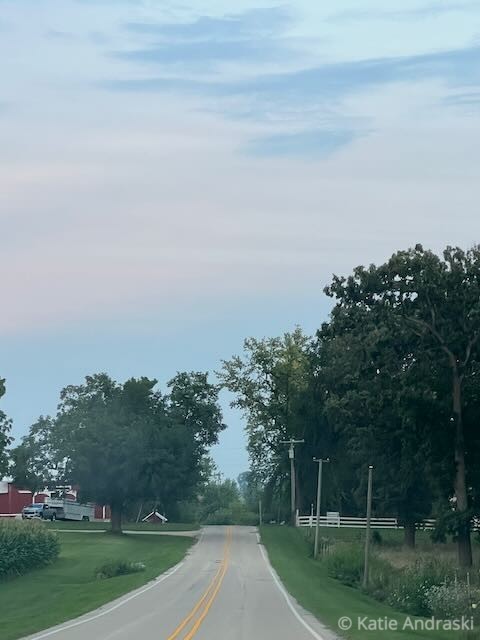 If you'd like to receive these posts regularly, subscribe to my Substack here.